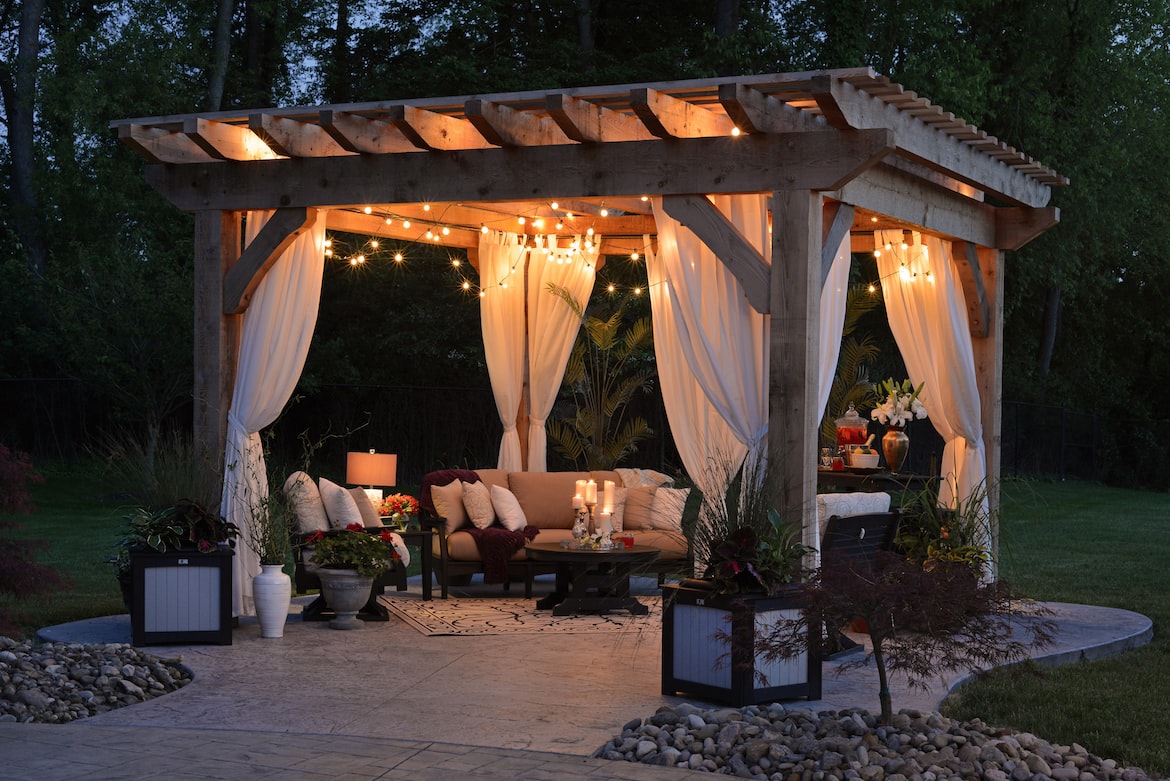 This is the perfect time to get crafty with a few easy-to-do DIY projects to create that chic backyard you've always dreamt of. Your backyard makeover doesn't have to cost an arm and a leg to achieve the desired look. The small, cost-effective details and DIY magic can go a long way in transforming your dull space into a visually appealing outdoor oasis. Here are the 13 DIY backyard makeover ideas that instantly elevate your outdoor space.
Give the Backyard Furniture an Upgrade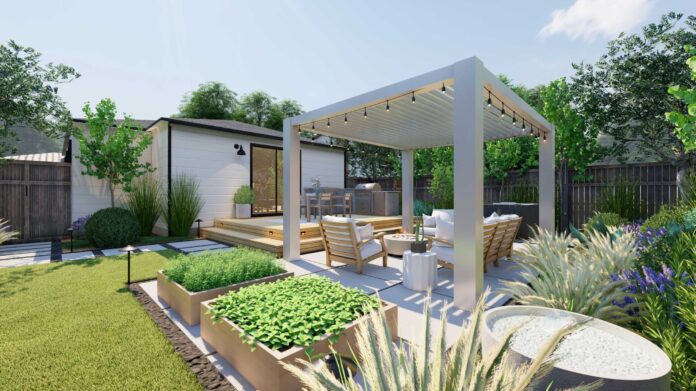 If your outdoor furniture seems tired, perk it up with a proper scrub and a colorful coat of spray paint. Use a mixture of dishwashing soap, warm water, and borax to clean vinyl cushions and steel wool to clean rusty metal furniture.
However, if you don't have any backyard furniture, you can repurpose leftover wooden pallets into design-forward backyard seating. Simply sand them down, apply a fresh coat of paint, and reassemble them into desired shape and size. Customize and complete the look with some outdoor cushions and pillows.
Create Shade with a Pergola
Clear an area in your yard or deck to build your own pergola using the Cabana X pergola kit. You can customize your pergola to include features that matter to you for added comfort and privacy. This may include draping outdoor curtains between posts, adding hooks for hanging pots, and making the space dreamy with chairs, a rug, and floor pillows.
Elevate the Garden Path With Decorative Stones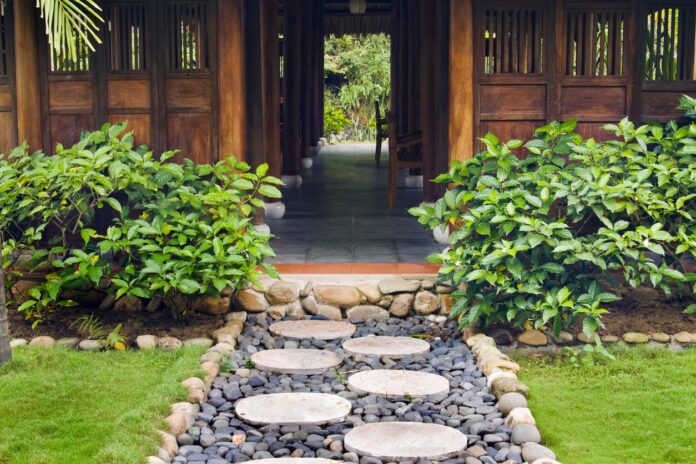 Establish a clear garden path from the house to the playhouse or pool in your backyard. Replace mulch or pine straw with decorative stone or river rock to create a peaceful garden trail. While mulch and pine straws need to be retouched every year, decorative stones help you save money since they are a one-time investment. Stones are much easier to clean and look more stylish. You can add a little flair to the pathway with yard decorations like garden stakes and glow-in-the-dark rocks.
Invest in a Fountain
A gorgeous garden fountain is not only a cost-effective water feature to include in your outdoor space but also helps you save on space since it doesn't take up lots of room. You can tuck your fountain in a small garden or position it as a focal point in the yard.
Introduce Some Mood Lighting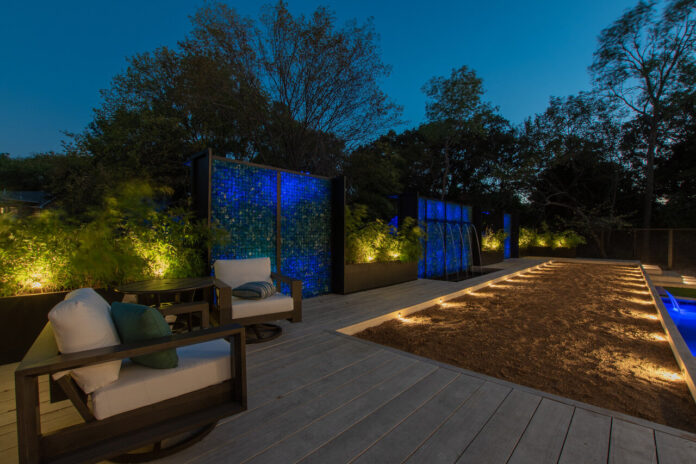 Outdoor lighting will help you create both a beautiful and functional backyard space. String lights down from your DIY pergola, gazebo, or other outdoor structure to give it a starry night feel. Also, consider aligning your garden path with lanterns and torches for soft lighting.
Create Room for Outdoor Dining
If you enjoy backyard cookouts and entertainment, a dining set is a must-have for your green space. Depending on your budget, you can invest in an outdoor deck or patio set, well-equipped with a table and chairs, or use wooden boards and wine barrels to build your own outdoor dining seating and yard décor.
Add a Little Charm With a Garden Trellis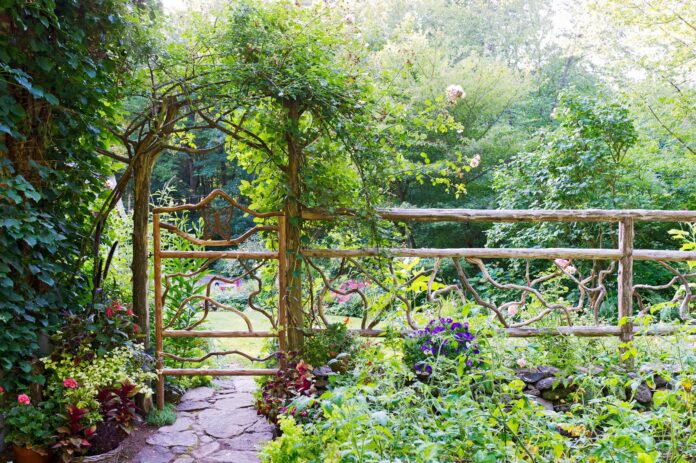 If there are climbing vines in your yard, then you already have a trellis. But if not, you can make your own trellis this weekend using wooden boards or metal poles and planting climbing roses on them. Try to mix mediums, such as erecting a wood structure with copper wire accents to create a dramatic effect. This garden feature not only allows you to control your flowers but also creates a perfect yard barrier.
Keep a Tree Swing in Mind
You only need a board, a rope, and free time to get your tree swing up and functional. Drill several holes into a sanded wood plank and use a rope to secure it. Identify a healthy tree, use a ladder to get to its largest branch, and loop a chain over it. Connect the chain and the board with a rope, and you are good to go.
Add Warmth With a Fire Pit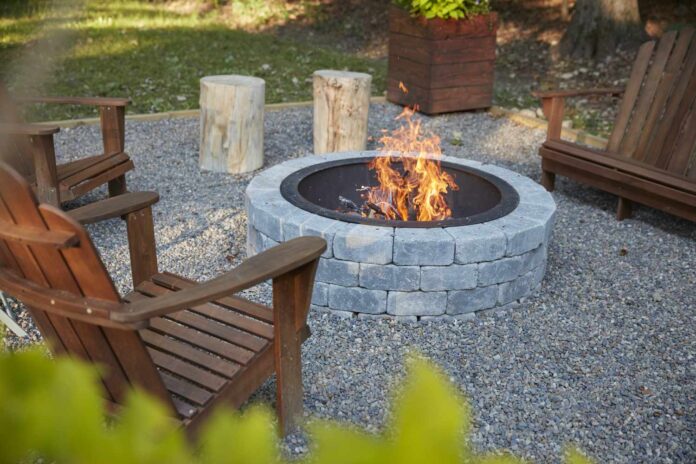 A good fire Pit will make your long nights outdoors bearable and enjoyable. It sets the tone for your outdoor living space, adds a unique focal point, and defines a gathering space. Besides, a fire pit lets you enjoy 360 degrees of heat, enabling your entire family and guests to gather around the fire comfortably.
Showcase your DIY skills by constructing your fire pit using wall stones or invest in a budget-friendly and ready-made metal option. Remember to add ample seating around the fire pit for an unforgettable roasting experience.
Lay Down a Decorative Outdoor Rug
A large outdoor rug can be a perfect addition to your deck or patio space. It helps jazz up the backyard with a pop of color and style. Additionally, a rug saves you the time, money, and energy of having to paint and stain a deck.
Upgrade Your Grill to a Complete Outdoor Kitchen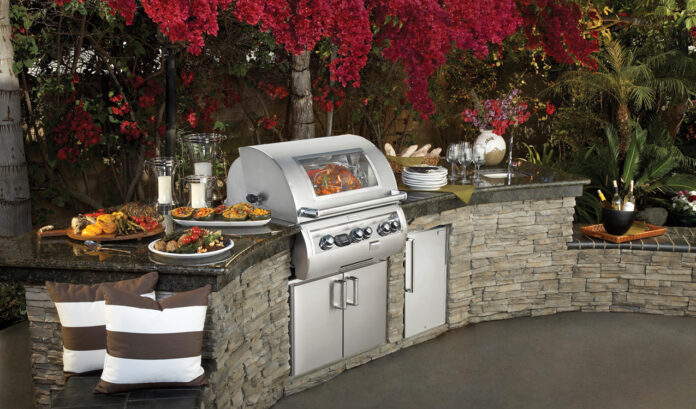 Take that outdoor grill a notch up by creating a fully-equipped outdoor kitchen with stations for preparing meals and washing hands. Build an outdoor kitchen within your budget and with the necessary functionality. You can install your kitchen kit under a pergola with a kitchen island, storage, grill, and refrigerator, or simply add a table and charcoal grill on a patio for a simple look.
Go for a Simple Window Box
Installing a window box in your backyard will help you liven up the space with color. This is the best way to go if you don't want to plant the entire flower patch. You only need a few tools to prepare your window box and add your favorite plants and flowers.
Build a DIY Compost Station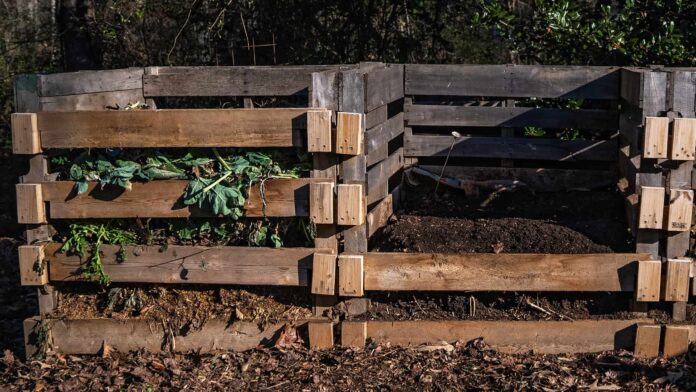 Making a compost pile can provide easy access to nutrients to facilitate your DIY backyard projects. It is also a great way to retain the moisture in your garden's soil. Before you start building a compost station, select an ideal location for it. You should choose a spot out of the way and not close to outdoor eating and living spaces.
Consider building a wooden box for collecting food waste. It will help you contain and add some style to your compost pile. Once ready, use your compost to keep your lawn or yard vibrant and healthy.
These small details will work magic to bring your backyard together and make it more comfortable. Take one day at a time to implement these DIY backyard makeover ideas, and you will be surprised by the great transformation you will see. Don't hesitate to try as many options as possible to see how things turn out. While at it, don't overdo things.