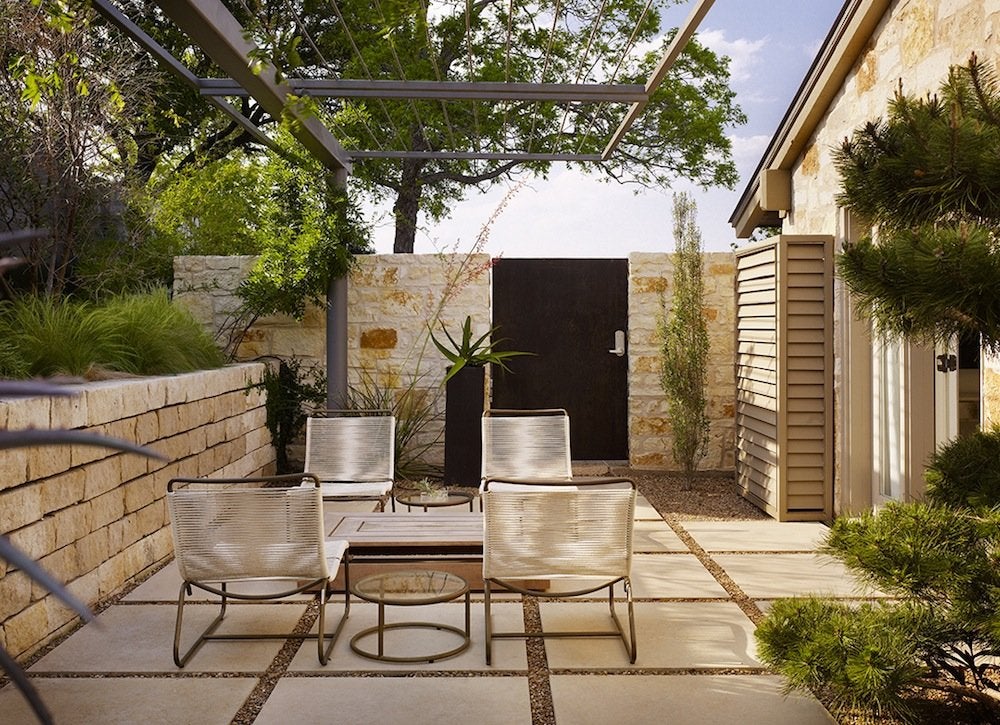 Do you feel uneasy about going into your backyard because you've lost your lovely plants due to the winter? If this is the case, it's time to remove the lifeless plants and prepare your backyard. You don't want dead bushes in your outdoor living space, right?
If you're unsure about how to enhance your outdoor living area, don't worry. This article will provide eight valuable tips to transform your drab and dreary backyard into a stunning and inviting space.
Add A FirePit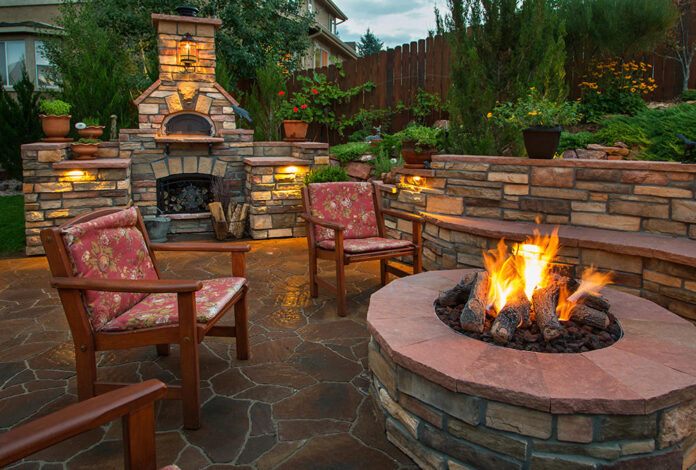 Outdoor firepits serve as a central gathering point where people can gather and socialize. In addition to this, they also offer the necessary warmth required to sit outside when temperatures drop too low.
You can purchase reliable firepits online or construct one yourself, but following all safety guidelines is crucial in the latter case. When sitting around the fire pit, ensure you have a container filled with water nearby in case a piece of coal or wood chip escapes the enclosure.
Update Your Outdoors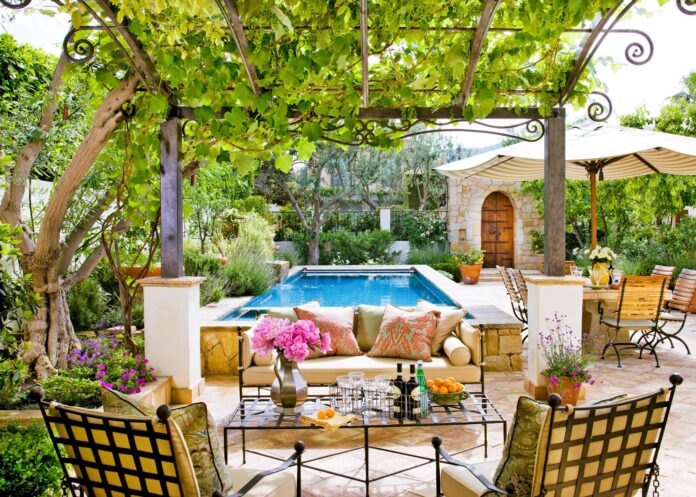 Updating your outdoor space can enhance your backyard's visual appeal, functionality, and comfort. You can add trees, shrubs, flowers, and other plants to create a beautiful and natural environment. Incorporating plants with different colors and heights can create a visually interesting landscape that looks great year-round.
You can also update your outdoor space by adding hardscaping elements. These non-living features placed in pathways, patios, and walls can complement your landscape and make it attractive. Regular maintenance is needed to keep your backyard looking beautiful and prevent it from becoming overgrown or cluttered.
This includes mowing the lawn, trimming trees and bushes, weeding, and cleaning up debris. Updating your outdoors will enable you to easily create a relaxing retreat, an outdoor entertainment area, and an excellent space for gardening.
Go For Bright Colors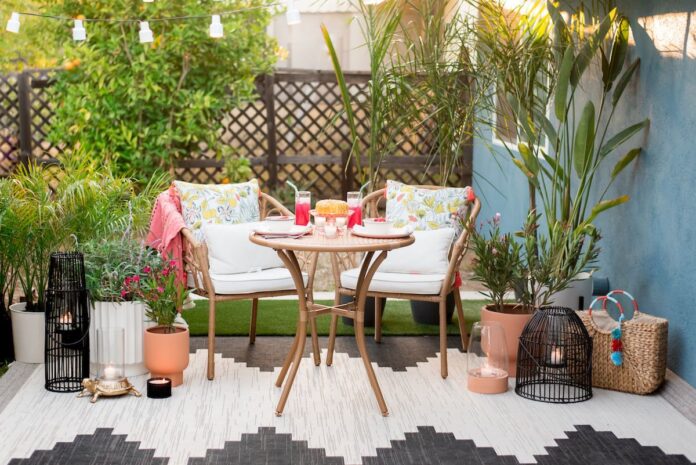 When revamping your backyard, you should consider incorporating vivid and striking colors. Bold hues can add a special and lively touch to your outdoor area. Planters of different sizes and shapes can add an artistic flair that matches your paint better than pre-designed pots. Also, you can create designs that match these planters
If your furniture consists mainly of wicker, bright, cheerful pillows can complement it. If you have a covered patio or pergola, potted plants, and hanging lanterns can enhance their ambiance.
You can also spray different paint colors on the hanging lanterns to match your backyard's design. Lastly, consider adding plants of varying shades to your outdoor space to enhance the overall aesthetics.
Focus On Focal Points
To enhance your backyard, consider centering your design around a specific item. This item could be anything from a striking work of art, a comfortable couch, a beautiful table, or something else.
Once you have chosen your central item, you can select accompanying pieces with complementary colors that accentuate and draw attention to the focal point. These complementary pieces can enhance the overall aesthetic and guide the eye toward the center.
Alternatively, you may choose contrasting pieces to create a unique and eye-catching design. However, if you choose this approach, ensure you don't choose pieces that overpower the centerpiece. This approach may work best if you use vibrant and attention-grabbing designs.
You can also use large items to create unique designs for your focal point. For example, you can arrange some pieces to highlight the pool to create a beautiful and functional backyard.
Add Wall Accents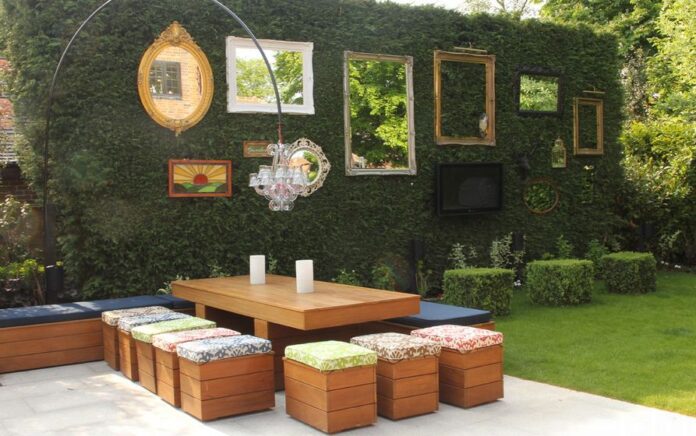 If you have blank walls in your backyard, they can appear uninteresting, but there are several easy ways to make them more appealing. You can use pictures, wall containers, and signs to add visual interest.
You can use string lights to create a cozy and welcoming atmosphere in your backyard in the evening. When they're hung on the walls, they can enhance the ambiance.
Also, if you have an outdoor bar area in your backyard, you can look for a suitable sign to hang in it. A fun and playful sign may add a whimsical touch to that area. Additionally, wall accents can fill the empty areas that haven't been decorated.
Add Seats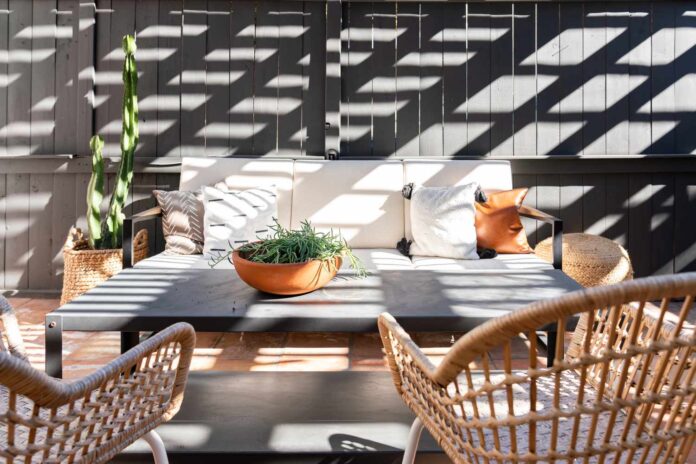 Adding comfortable seating to your backyard can make it more inviting and appealing to your family and guests. Consider adding benches, chairs, and lounge furniture that complement your backyard's design and color scheme. You can also choose from various materials, including wood, metal, and wicker, to match your style and budget.
Comfortable seats can also help you to create distinct zones and make the most of your backyard's space. For example, you can create a dining area with a table and chairs, a lounge area with comfortable seating, and a reading nook with a bench or hammock. Hammocks can also be ideal for hot afternoons.
Your seating should complement your landscape's design if you want it to create a cohesive appearance. You can accomplish this by choosing seating that matches the color, style, and materials of your backyard's features.
For example, if you have a natural and rustic landscape, you may want to use wooden benches or chairs that blend in with the surroundings. If you have a modern and minimalist design, it may be advisable to use metal or plastic seating that creates a clean and streamlined look. Seating that complements your backyard's design will enable you to create a beautiful, harmonious space that reflects your style.
Define Your Space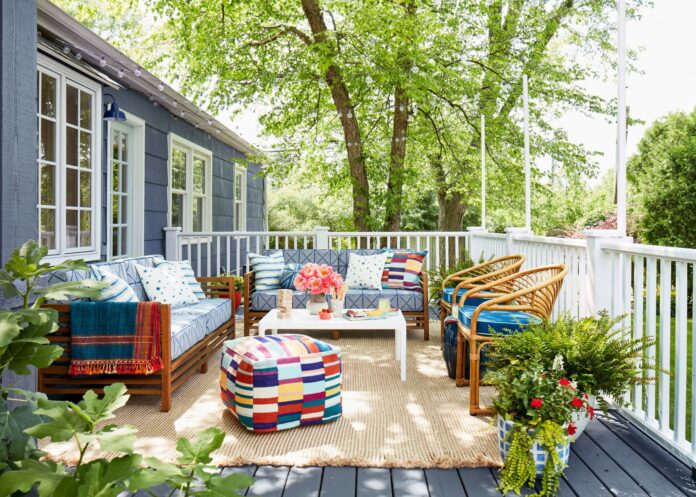 Defining the areas of your outdoor living space is essential to any design. Furniture is an excellent way to establish where the seating area is and differentiate it from other parts of your backyard.
Use benches as a boundary for the seating area and separate it from other sections. Long planters, pergolas, and area rugs also effectively define spaces. Remember to leave adequate room for walkways and use runners to mark the areas with the most traffic.
Arrange the seating and other areas around the designated pathways for easy access and flow. You can create a more organized and visually appealing design by establishing defined areas in your outdoor spaces.
Include Sparkling Lighting
It's essential to have proper illumination in your outdoor spaces. You can choose trendy lighting fixtures to make a statement and create a warm ambiance with soft lighting. You may also include fairy lights as an accessory to add a sparkling touch.
Use wall washers, classic lantern designs, and cove lighting to keep the illumination levels low. It's important not to overdo the lighting, as it can be harsh on the eyes. Beautiful lighting is the key to creating a serene and relaxing outdoor space.
The Bottom Line
Transforming your outdoor areas into stylish yet practical living spaces can be an excellent motivation for taking a break from the monotony of moving between your living room and bedroom. These outdoor spaces can help refresh your mind and keep you happy, providing an extra spot to relax and unwind.
Taking a small break in such a space can further enhance your creativity. With these helpful tips and tricks, you will create an elegant and functional outdoor space perfect for hosting your family and guests.