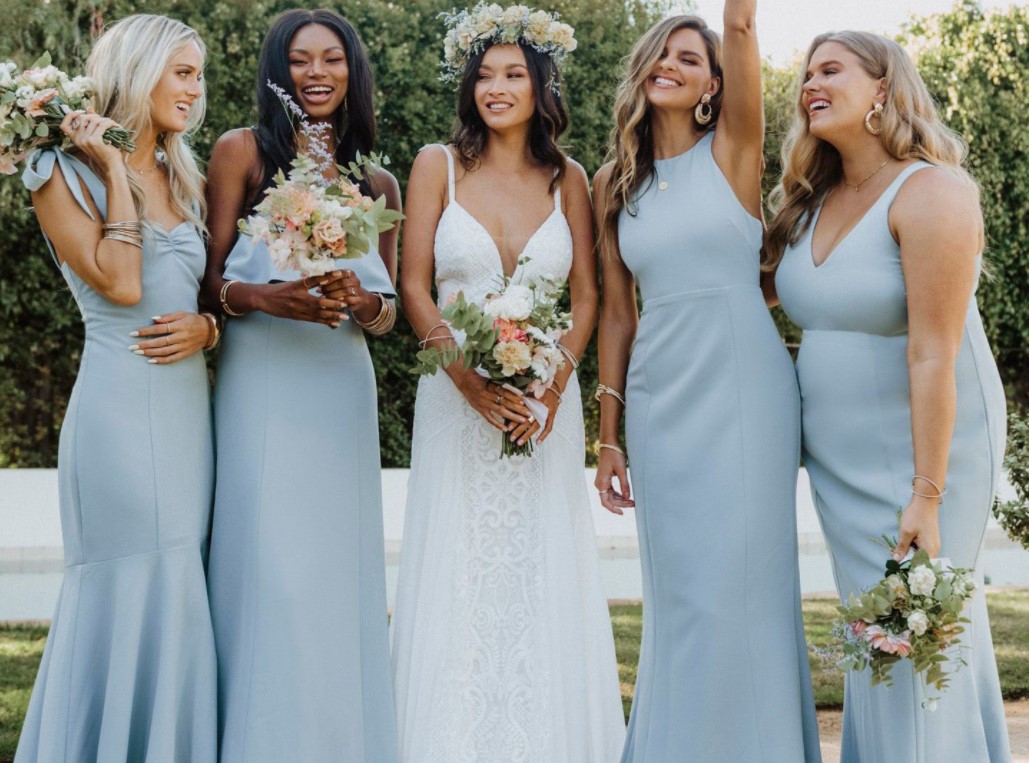 To have the perfect wedding ceremony on your wedding day, it is necessary to ensure all aspects of the wedding are perfect and synchronized with each other. Everything from the colors of your flowers to the theme of your cake can impact how amazing your wedding is and how much it impresses your guests.
One aspect that is often overlooked while planning for a wedding is the material for the bridesmaid dresses. Yes, while the material for the wedding dress for the bride is quite important, the material on her bridesmaid dresses is also equally important and can be the difference between them looking perfect for the wedding and not-so-perfect in the worst case scenario.
Your bridesmaid will only shine in their weddings if they have the perfect dress to wear and if you too are looking for authentic and amazing bridesmaid dresses to buy you need to find a reliable store. However, the thing is that many people are not even aware of the different types of bridesmaid dress materials let alone the effect they have on your wedding.
If you too are one of these people then don't worry, because we have you covered. In this article, we will be listing several tips for you so that you can choose the perfect material for your bridesmaid dresses. Read the article till the end so that you don't miss out on crucial details.
1. Pay attention to your wedding theme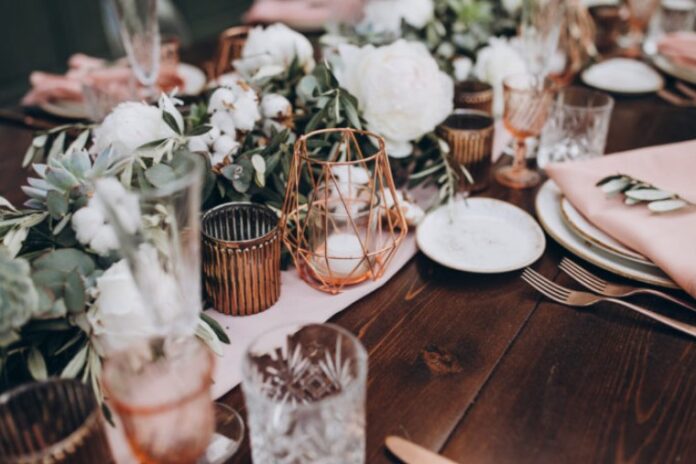 While you are looking for the perfect material for your bridesmaid dresses, it is necessary that you keep your wedding's theme in the back of your mind. Your bridesmaids are going to play an important role in the wedding and will be at the forefront with the bride and groom, visible like daylight to everyone.
Now imagine the horror your guests might have if the materials on your bridesmaid dresses don't match with the wedding theme at all! You might think that only color plays an important part in the bridesmaid dresses for keeping attuned with the theme but the actual reality goes far beyond that.
Even if you choose the perfect color for your bridesmaid dresses but the dress material is different, it can have disastrous effects on the wedding day. We strongly recommend that you choose a theme for your wedding beforehand and then start deciding which material suits the best for your bridesmaids dresses.
For example, weddings hosted at nights and evenings in indoor settings can present a perfect opportunity for satin bridesmaid dresses to shine in. On the other hand, choosing tulle and chiffon dresses, excellent choices as they are, may not be the best ones for your wedding and can make your bridesmaids stand out like a sore thumb.
2. Ensure that you choose the right material for the right weddings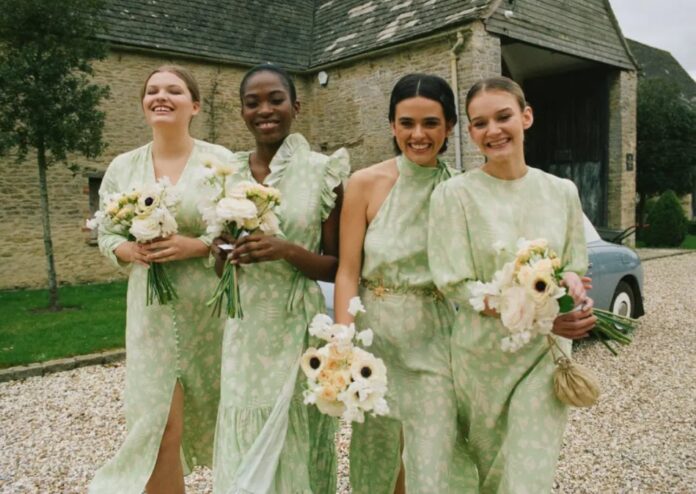 While the tip may seem obvious considering this entire article is regarding that exact thought, what we mean by that sentence is to ensure that you choose the right dress materials for culturally appropriate weddings.
While traditions and cultures from other countries don't play a major role in most normal weddings, it is still important that you regard traditions to some extent when deciding various aspects for your own wedding – which includes, believe it or not, the materials on your wedding dresses.
Sounds unbelievable? Let us explain. While the type of your bridesmaid dresses dictates if their dresses will follow traditions or not, the material of the dress, in turn, plays a major role on the style of the dress. Case in point, you will hardly find a full lace bridesmaid gown or a two-piece chiffon dress.
If you know that both the families in the wedding are culturally conservative and frown on over-exposing dresses, we strongly recommend that you opt for chiffon or full tulle dresses as they give your wedding the perfect traditional look you and your family were looking for.
3. Understand what colors you want for your bridesmaids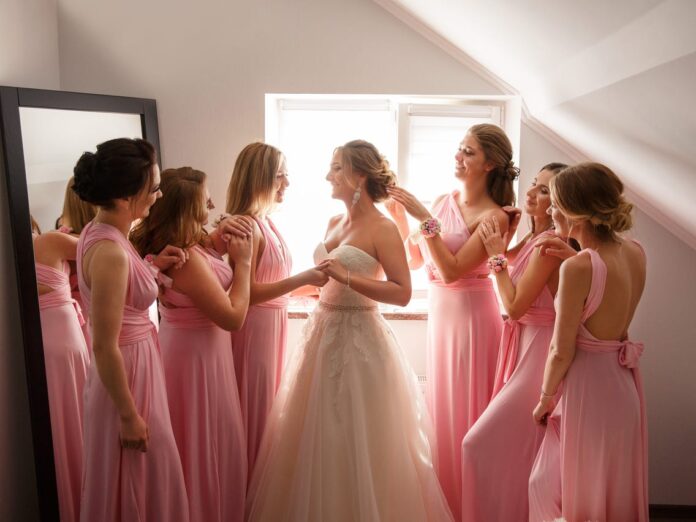 Adding to the first tip of paying attention to your wedding theme when looking for bridesmaid dresses, we strongly recommend that you figure out exactly what colors you want your bridesmaids to wear during the wedding. The reason we are suggesting this is because different materials of bridesmaid dresses are uniquely capable of flaunting their own set range of colors the most.
For example, darker colors like purple and maroon look the best on satin dresses and give the dresses an extremely rich look. Lighter colors on the other hand, like yellow or sky blue, are best suited for chiffon dresses. If you want your bridesmaids to look colorful to an extent and still look gorgeous, tulle dresses are an excellent choice that.
Last but not least, if you want dresses that blend in with the wedding easily and don't stand out too much but still give your wedding a fuller look, then the material you are looking for is lace whose dresses are perfect for weddings that are lacking something in decor.
4. Decide whether you want the dresses to be stylish or simple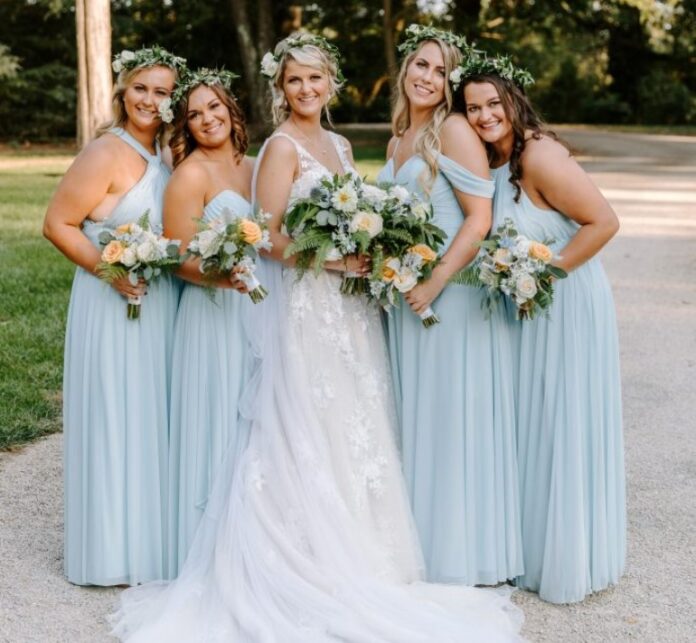 As we discussed earlier, the material of your bridesmaid dress has an immense impact on the style of dress you choose. Depending on the style of bridesmaid dresses you want, you may be forced to choose a single type of material that can fulfill all your requirements.
If you want your bridesmaid dresses to look like flowy, free and relaxed gowns, then go for chiffon dresses. These dresses are great for keeping your bridesmaids comfortable while making them look like goddesses. If you want your dresses to be extremely stylish and make a fashion statement once they are worn, we recommend satin or crepe dresses.
If you want your bridesmaid dresses to look simple and plain without any excess style and color, we recommend going for lace dresses. Alternatively, if you want attractive dresses that don't take up too much attention, then your first choice should be none other than tulle dresses.
Conclusion
Choosing the right material for your bridesmaid dresses is a difficult, yet essential, task. We hope this article helped provide you some insights on which materials you should choose for your bridesmaid dresses and if it did, please consider following our website for regular updates as it will help us out immensely.