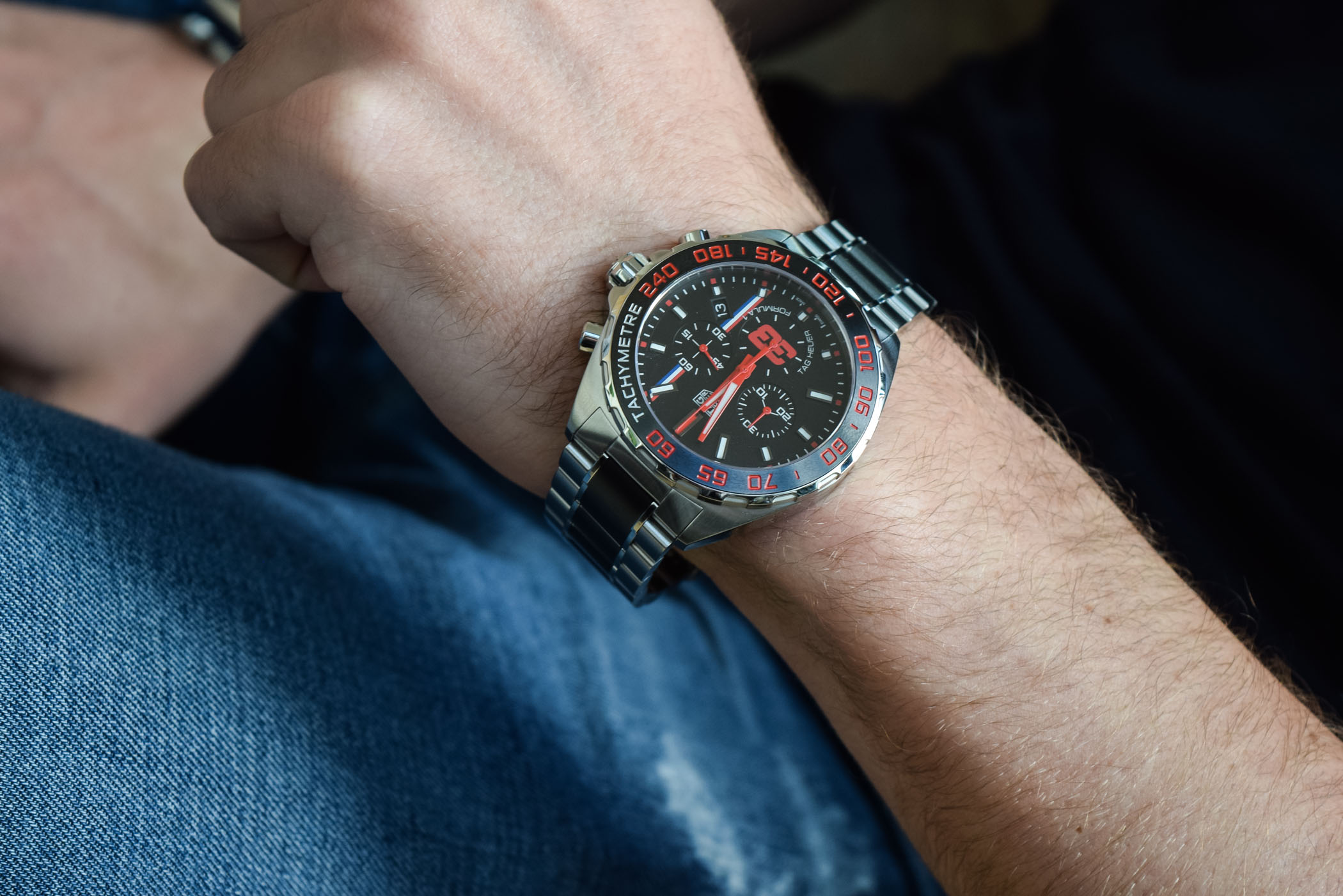 Wearing a watch can be a part of your branding, the way you wear would always be assessed, so you might as well manage that message. While wearing a watch in other contexts, such as dates, events, or interviews, can benefit you. There are tens of thousands of different watch categories to choose from, ranging from internal mechanism changes to functional history to designer whim to sometimes rather pricey materials.
A man's wristwatch is one of the most noticeable items in his clothing. It's one of the few pieces of jewelry that most guys feel safe wearing outside of a wedding or class ring, and it's also one of the few ways that they may express themselves. To men, it is better to build a watch wardrobe by having one or two that are fantastic for everyday use and some that are great for special occasions.
Race Watch for the Real Man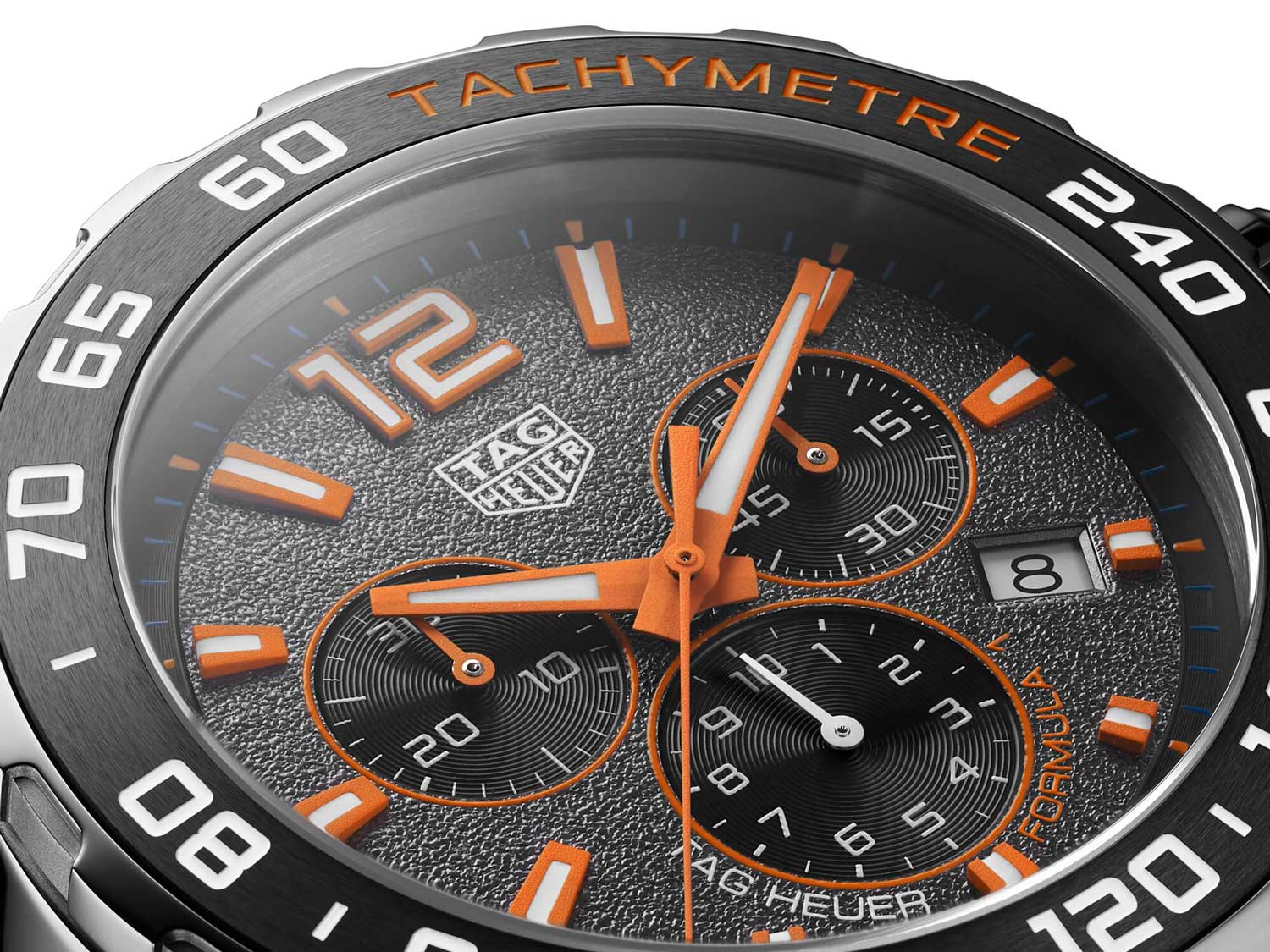 Both racecars and timepieces are powered by tremendous mechanical engines that require a great deal of precision and accuracy. As a result, it's no wonder that they've had a close relationship throughout history. Since the 1930s, automobile racing and wristwatches have been intertwined. That's because racecar racing relies on precise timekeeping to determine the winner.
In 1986-1987, TAG Heuer Formula 1 was introduced. Its origins in the realm of motorsports have grown deeper over time. It has evolved into a stylish line with dramatic designs that demand attention and advanced technical elements inspired by Formula 1 teams' exceptional performance. TAG Heuer's Formula 1 collection undergoes over 60 quality control tests to manufacture timepieces that are exceptionally shock-resistant and water-resistant to 200 meters, similar to how cars are tested to withstand any conditions.
The Tag Heuer Formula 1 Collections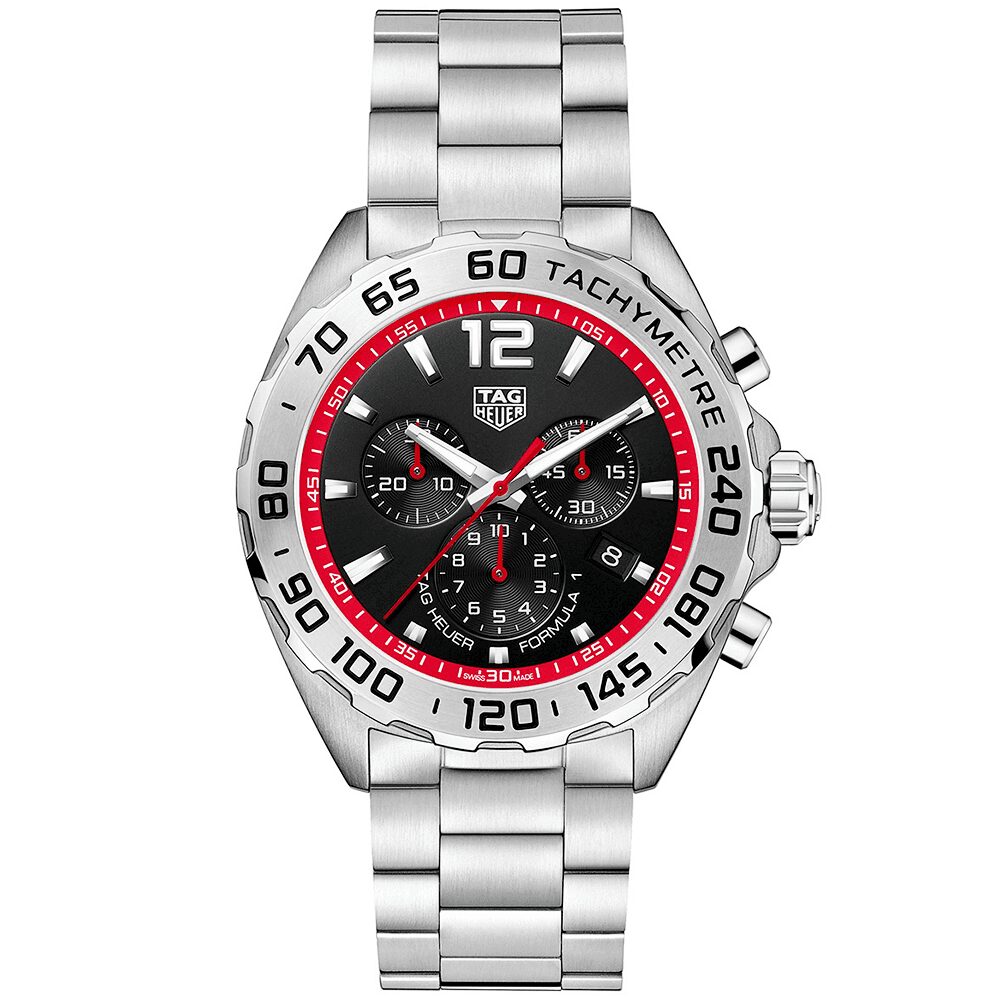 TAG Heuer set the standard for racing timepieces by including a chronograph and a tachymeter, two of the most important characteristics of a driving watch. The earliest TAG Heuer chronographs were produced for Luftwaffe pilots in the 1930s and 1940s, but racecar drivers began wearing them in the 1950s and 1960s to track their speed and distance. Identifying features include a medium to large face dial with clear Arabic numerals – to make room for the chronograph. The case is usually made of stainless steel and is designed to withstand the demands of a motor racing, leather, or metal band, complications are frequently employed. Chronograph and, on rare occasions, date timepieces, and racing timepieces are showier than dive or pilot watches. Because of their bold appearance, they're more suited to informal than formal attire.
Between 1971 and 1979, Tag Heuer was the official timekeeper for Team Ferrari, an era that saw some of the most famous race car drivers, including Clay Regazzoni and Mario Andretti. Tag Heuer developed the first Tag Heuer Formula 1 collection in 1986, inspired by the high-speed and extraordinary performance of Formula 1 races. The inaugural Formula 1 watch collection was vibrant and colorful and these watches, which are made of steel and fiberglass, have received accolades for their dependability and affordability. In addition, the Formula 1 watches were the first analog Tag Heuer watches to have a quartz movement. These athletic, long-lasting watches were a huge hit all around the world.
Limited Edition Tag Heuer Formula 1 Chronograph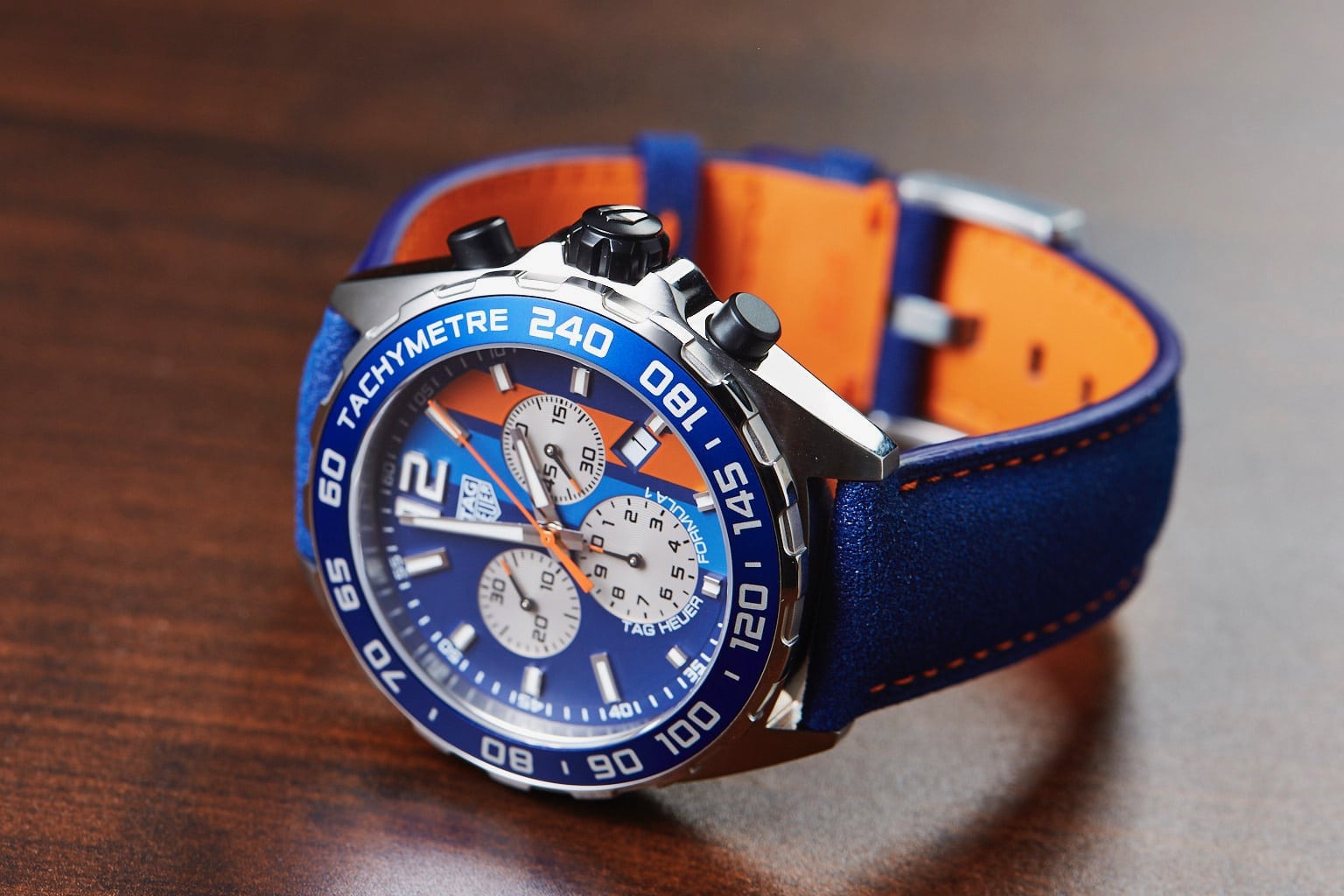 This Tag Heuer timepiece is a limited-edition model with only 500 pieces created worldwide. The fine-brushed and polished steel case of this 43mm watch is attractive. Aside from that, there are three sub-dials on this watch and a fixed bezel with a tachymeter. All of these components combine to produce the Tag Heuer Formula 1's signature casual sporty style. It features a Swiss-made quartz movement that can last up to 24 months, just like the original Formula 1 models. This Tag Heuer F1 chronograph boasts a sporty and modern appeal that is appropriate for any event or occasion, thanks to its silver, black, and red design
Formula 1 Quartz in Black & Gold Dial by Tag Heuer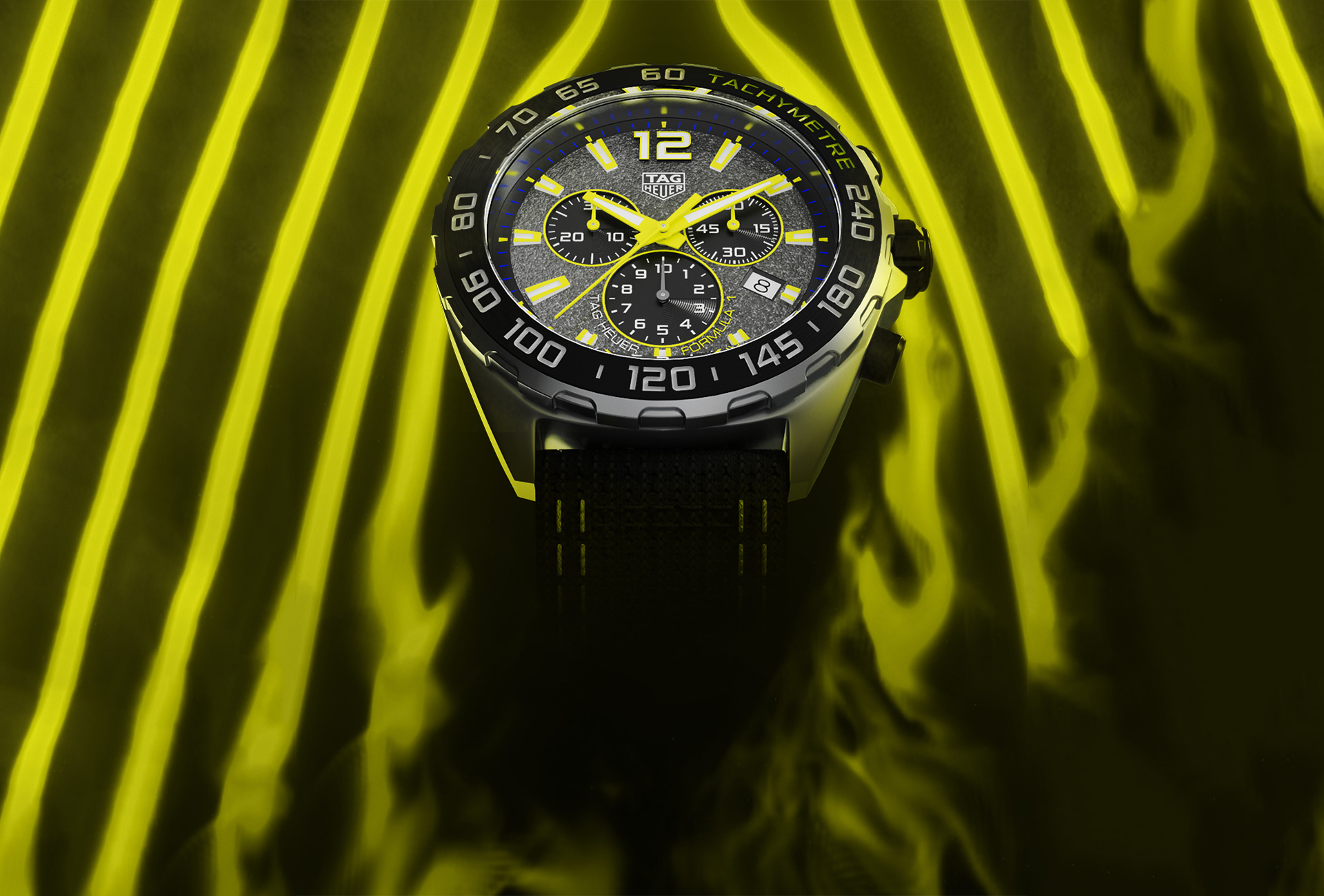 The 41mm case of this Formula 1 quartz watch is complemented by a polished steel and gold strap. Aluminum and gold-plated steel make up the unidirectional turning bezel. Gold-plated luminous indices set against a black dial exude urban refinement. Furthermore, unlike most Formula 1 timepieces, its silver and gold design exudes premium quality. This timepiece is both stylish and sporty, making it ideal for anyone on the go.
Special Edition Tag Heuer Formula 1 Aston Martin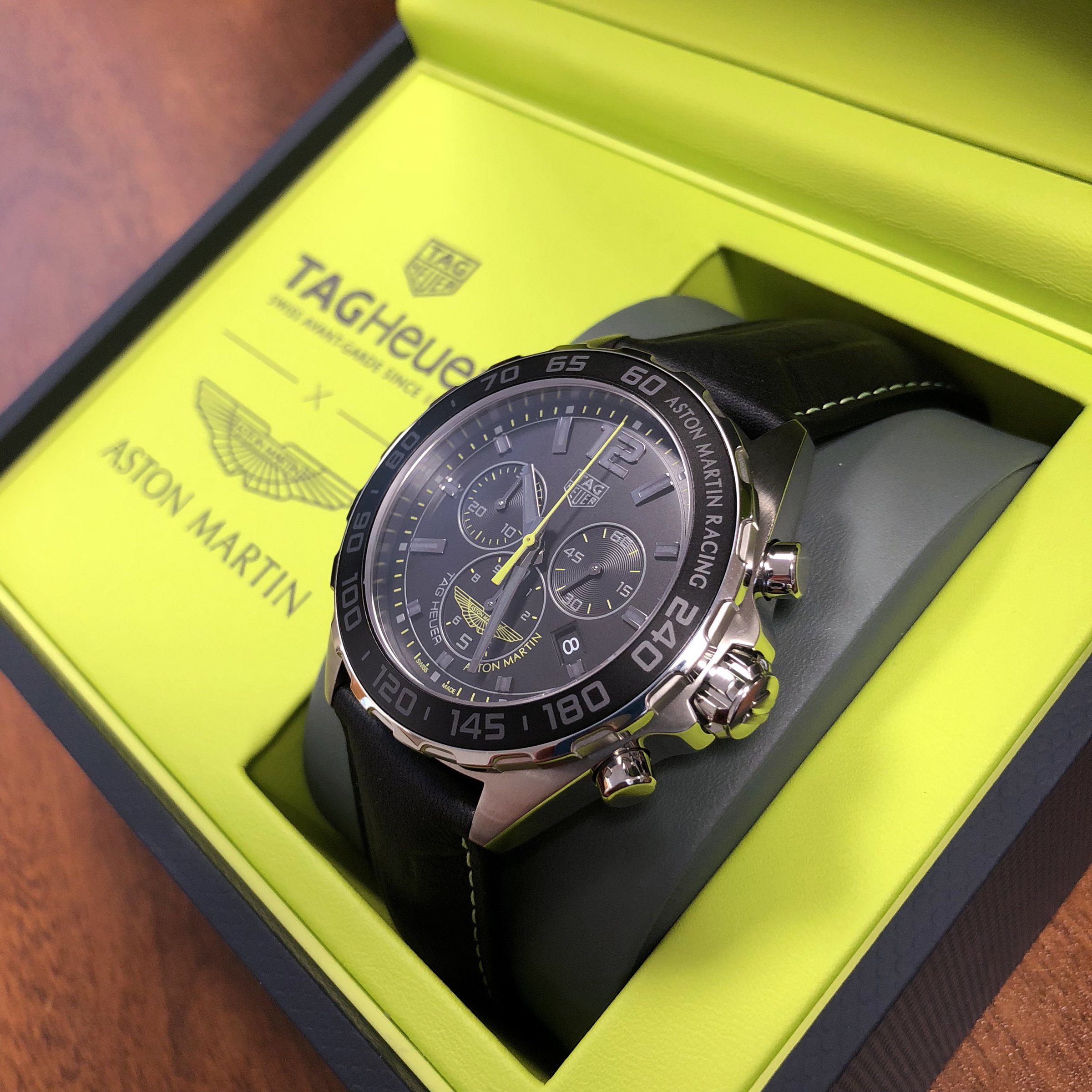 The Tag Heuer Formula 1 Aston Martin Special Edition is the result of a collaboration between Tag Heuer and Aston Martin, a British luxury manufacturer. This timepiece is inspired by the new Vantage GTE and features a sleek and futuristic appearance. This chronograph watch is powered by a quartz movement and features a steel bezel with a tachymeter. A black dial with Aston Martin's winged emblem and Tag Heuer's famous shield logo is also available. A distinctive lime-green seconds marker stands out against the black dial, a color that is exclusive to Aston Martin and can also be found on the new Vantage GTE. This timepiece features a black calfskin leather band, which is the first time Tag Heuer has incorporated a leather strap in its Formula 1 collection. The matte black strap with lime-green topstitching, which matches the dial design. The Tag Heuer Formula 1 Aston Martin Special Edition is an eye-catching timepiece with a blend of black and brilliant lime green.
Takeaway
The new TAG Heuer Formula 1 timepieces have the added benefit of being appealing. We'd call it an everyday wearer in terms of usability, and it'd be a nice addition to a diversified collection of fine watches. TAG Heuer is a good option for those looking for a well-known luxury watch at a lower price point, as high-end watches tend to be more expensive.
TAG Heuer is an excellent first choice for anyone wishing to purchase a high-end watch for the first time, particularly among the younger, hipper generation. The brand is well-known for its athletic appeal and celebrity-driven marketing efforts, making it almost a top choice.