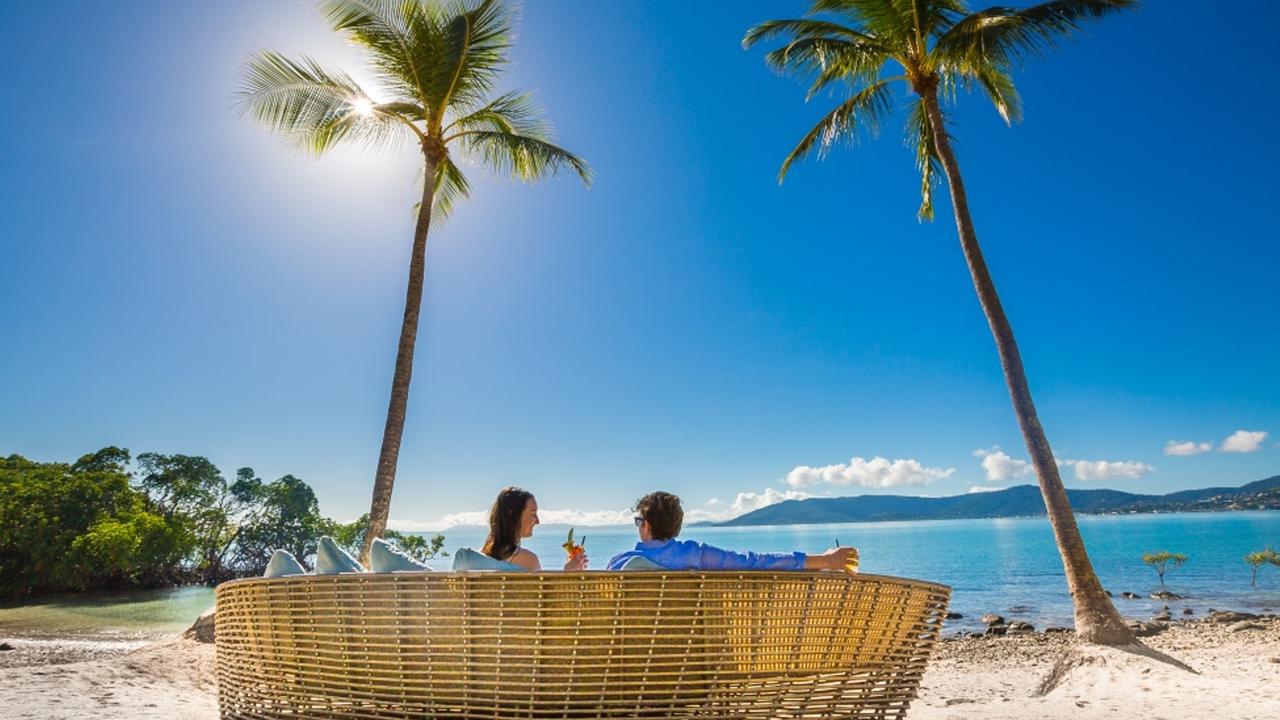 If you ever find yourself driving along the coast of Queensland, Australia, we heavily recommend that you stop by Airlie Beach along your way. Airlie beach is one of the most fabulous beaches in Australia and it would be a crime for your fun to not visit this beach at least once in your lifetime. Airlie beach is home to great tourist destinations like the world-famous Great barrier reef, the amazingly stark Whitehaven beach and the gorgeous chain of Whitsunday Islands.
Airlie beach captivates everyone who comes on its shores and leaves them with an experience of their life that they don't forget anytime soon. Being home to Australia's most iconic and fun tourist locations, Airlie beach has something for everyone. With numerous hotels like Harbour Cove decorating the Airlie seashore, you can be assured that your trip will be as comfortable as it is fun. The Airlie beach is vast and you'll never find yourself out of things to do, may it be scuba diving in the reef, snorkeling, or sailing in the open seas.
The thing is, Airlie beach is a bit far from other major tourist destinations and is also a bit expensive. As such, you might ask yourself – Is Airlie beach really worth visiting in 2023? The answer to that question is yes, even if after being remote from other locations and being a bit expensive, Airlie beach is worth all the money if you are looking for a place to have fun after the pandemic is over or even a place for your summer vacations!
In this article, we'll list down several reasons why you should consider visiting Airlie beach in 2023 to have some holiday fun.
1. An all-time amazing weather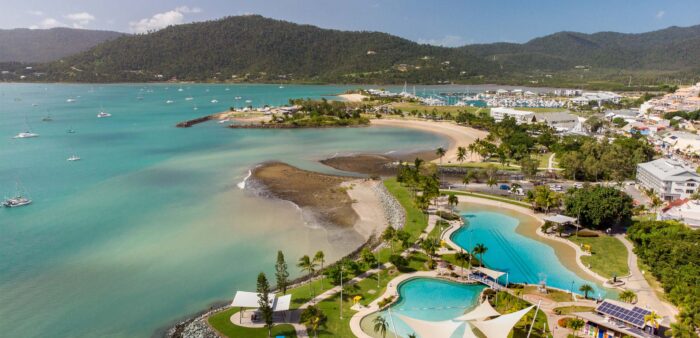 Hitting the perfect sweet spot of tropical climate, Airlie beach checks off all the marks of great weather almost all year! You won't have to worry about ever being late for Airlie beach as no matter what time of the year you go in, you can always be assured of basking in the sun of good weather.
It's crucial to note, however, that summer in Airlie beach is an invite for jellyfish flocks in the water and if you plan on swimming extensively then you need to ensure that you plan your visit accordingly. The best time to visit Airlie is said to be from July to September to have the best experience. The temperatures aren't too hot around this time and are not too cold either leaving you to do whatever you want on the beach.
2. Airlie beach connects to the amazing Whitehaven Island
Whitehaven island is one of Australia's favorite beaches and for good reason – the Whitehaven beach is one of the most gorgeous beaches on Earth. With sand as white and smooth as marble and the beach having its own distinctive shore with beautiful turquoise waters, the Whitehaven beach can make your heart leap with its beauty even before you set foot on it. And if you want to get the full experience of Whitehaven beach, you must arrive at Airlie beach first.
Whitehaven beach is only accessible from Airlie beach as all the modes of transport to Whitehaven are situated in Airlie beach. This is another reason to visit Airlie beach as there is no other way to go to Whitehaven beach and honestly speaking, we view this as a great opportunity to enjoy both the beaches at the same time and have fun.
3. Where there is Airlie beach, there are Whitsunday islands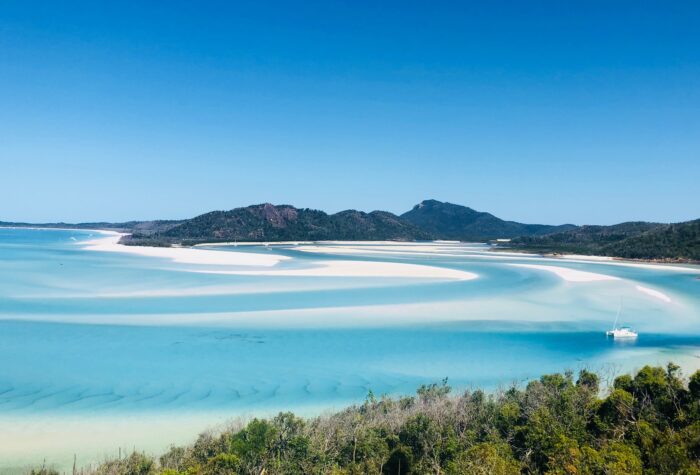 The most accessible way to Whitsunday islands is through Airlie beach. Whitsunday islands are well-known throughout the globe for their popularity as a chain of beautiful islands interconnected with each other allowing adventurers and explorers to fulfill their dreams of exploring unknown islands.
The proximate location of Airlie beach is a great way to access this island chain by going to them by boat or just trekking across on them. That's why if you wish to explore the Whitsunday islands, we strongly recommend going to Airlie beach first. You'll have the opportunity to explore the islands as well as enjoying the experience of Airlie beach – all on the same day!
4. Visit the Great Barrier Reef close by!
Airlie beach is home to many wonders and one of them is Australia's Great barrier reef. The variety of companies on Airlie beach all singularly offer various options to visit the great barrier reef, dive in its depths with professional diving equipment and training as well as snorkeling along the surface to explore the Great Barrier Reef with your own eyes staying out of danger.
These companies and services have great guides that love their job and are more than enthusiastic to answer all your questions and make your experience as enjoyable and memorable as possible. With the help of these guides, you will be free to experience the glory of the great barrier reef with all its creatures and fauna inside.
5. Airlie beach offers the perfect tourist life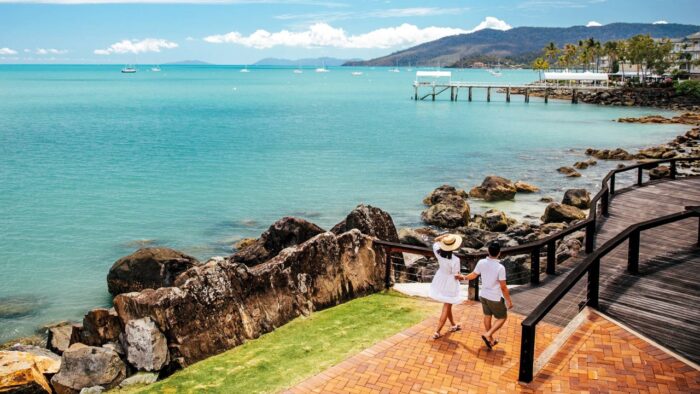 All your vacation won't amount to anything if you don't feel comfortable after an entire day of fun and thrill. Fortunately, on Airlie beach that is not a problem. Airlie beach offers the best spots for tourist relaxation and nightlife unmatched and unseen anywhere else in Australia. There are several shopping spots in the inner parts of Airlie beach for you to buy any kinds of souvenirs or commodities you like.
When it gets night and you have just arrived from an entire day of yachting, nothing can beat the divine experience of sitting down at a laid back restaurant, cracking open a bottle of beer or rum, and relishing it with a fresh, quality seafood menu – all the while with great music playing in the background and the ocean shimmering in the moonlight, its waves crashing softly on the shore. Enchanted? You should be. Experiencing the amazing Airlie beach is something that can barely be described by words – you must go there and experience it yourself to understand how beautiful the entire experience is.
Conclusion
Airlie beach is one of the most wonderful spots to visit in Australia, especially if you are in the vicinity of Queensland. If you do consider going to Airlie beach, we promise it will be well worth your visit. We hope this article helped you out, and if it did, please consider following our website for regular updates as it will help us out immensely.