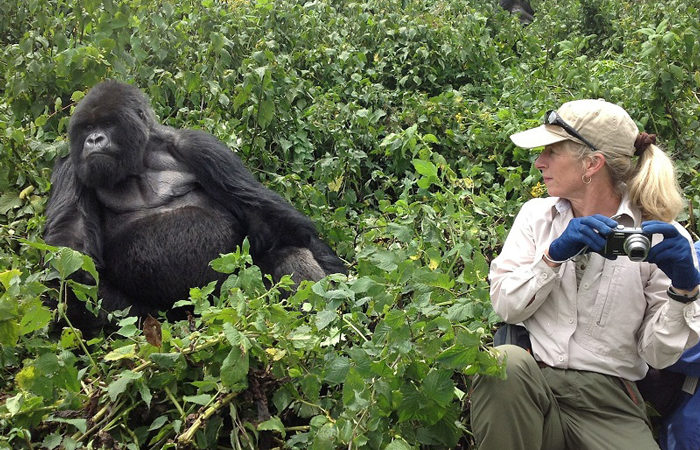 Gorilla trekking is a distinct opportunity to get up close and personal with the massive mountain gorillas in their natural habitat. To some visitors, it is an adventure of a lifetime. Visitors get a chance to explore in depth the daily behaviors of mountain gorillas.
The long day search for Rwanda mountain gorillas involves navigating via the bamboo-covered slopes with an experienced park guide. Gorillas are biggest living primates on earth and mountain gorillas in particular, survive in the Virunga Region and Bwindi Impenetrable National Park. About 1063 mountain gorilla still exist in the wild, and Rwanda hosts at least 30% of them.
Where to Find Gorillas on a Safari in Rwanda?
About a third of the world's mountain gorillas thrive in the bamboo-dominated Volcanoes National Park Rwanda. This park lies within the Virunga Conservation Area (VCA), Northwestern Rwanda in Ruhengeri area. Established in 1925, Volcanoes National Park is the oldest gorilla park and compact in size, measuring only 160 sq.km.
Within the park jungles, there are 12 habituated gorilla families that can be visited by tourists. These are all open to trekkers and popular gorilla families include the Susa B (most popular as Karisimbi group), Susa A, Sabyinyo gorilla group, Amahoro group, Agashya or Group 13, Kwitonda, Hirwa, Umubano gorilla group, Titus, Ugenda, Bwenge and Pablo.
The park's 12 groups translate to about 96 gorilla permits- these are available for booking for anyone with plans to go for a Rwanda gorilla tour. The number of permits is kept low so that sustainable ecotourism can be ensured. In addition gorilla viewing is limited to one hour to ensure that there is minimal impact from visits from humans.
What Is Gorilla Trekking in Rwanda Like?
Gorilla trekking in Rwanda is all about exploring mountain gorillas in their natural habitat, and specifically within the Volcanoes National Park. Before the normal gorilla trek begins, visitors get briefed about the guidelines for gorilla trekking. In every group comprising of 8 guests, the park guide will be assigned to lead them throughout the gorilla trekking session that often takes about 2- 6 hours.
The gorilla trek in Rwanda's Volcanoes involves winding through the altitude of 2400 and 4507 meters. Your fitness levels matter but there will be guarantee of one hour for a close encounter with the mountain gorillas and photography.
How Much Is a Gorilla Permit in Rwanda 2023/24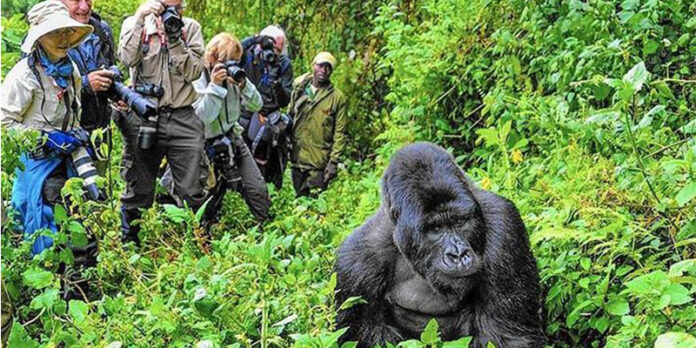 Gorilla permits are necessary if you have plans to travel to go gorilla trekking in Rwanda. Each gorilla permit in Rwanda is issued at USD 1500 per person and the tour operator on the ground can be in position to assist you secure one. Booking a gorilla permit should be done early at least 3 to 8 months before you take a flight to Kigali Rwanda for a gorilla tour.
The Best Time to Go Gorilla Trekking Rwanda
Tracking Rwanda mountain gorillas can be done at any time of the year. But it is recommended to travel during the dry season for excellent treks through the steep slopes of the montane forest because they remain drier due to low or no rains. The two phases of dry season to mark on your calendar are June, July, August & September; December, January to February.
Remember to pack essentials only for your gorilla trek regardless of whether you are visiting Rwanda during the dry or wet season. The must-pack things on your gorilla trek include sunglasses, pair of socks, long-sleeved shirts, a rain jacket, waterproof hiking boots, daypack, cameras, insect repellents, first aid kit, snacks, bottled water, trousers and more.
Where to Sleep During a Gorilla Trekking Safari to Rwanda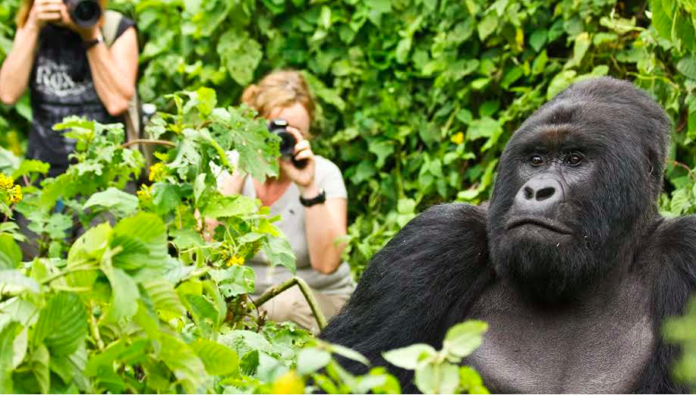 Find the best lodge for your overnight stay during gorilla tour in Rwanda. The location of the lodge you choose from briefing point matters a lot. The following are some of the lodges to book in Volcanoes National Park: Mountain Gorilla View Lodge, Bisate Lodge, Sabyinyo Silverback Lodge, Virunga Hotel, One and Only Gorilla Nest, Five Volcanoes Lodge, Kinigi Guesthouse, Le Bambou Lodge, Hotel La Palme, and many others.
For budget travelers, it is recommended you spend a night in Kigali then transfer to Volcanoes national park early in the morning.
Important Gorilla Trekking Guidelines to Follow
During the gorilla trek, maximum number of visitors to visit one gorilla group should be 8pax.
Once you have come across gorillas in the wild, the standard time to be spent with them is strictly one hour.
You can only be allowed to go gorilla trekking if you are 15 years and above.
When time for photography reaches, please ensure that you use a non-flashlight camera to avoid scaring away the gorillas or make them get irritated.
Avoid touching gorillas- keep a distance of 8 meters away at all times.
Do not make loud noise during the search for mountain gorillas.
What Else Can Be Spotted in Rwanda's Volcanoes Park?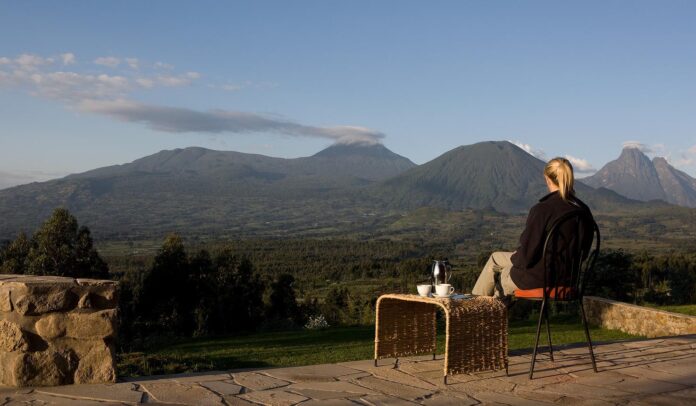 The Volcanoes National Park is a rich with more exciting unique attractions. Other than mountain gorillas, the park hosts distinct vegetation zones. These include bamboo, savanna grassland, afro-montane forest, and swamps.
These are the main habitats to the diverse wildlife species including forest hogs, spotted hyenas, bushbucks, duikers, golden monkeys, buffaloes and more. The second most popular attraction after the gorillas are the golden monkeys, an ancient world order of monkeys that is endemic to Africa's Albertine Rift.
Given the park's location in the Virungas, five volcanoes are also found here including Sabyinyo (3669m), Bisoke (3711m), Karisimbi (4507m), Muhabura (4127m), and Mount Gahinga (3474m). In addition, there are 200 species of birds worth spotting and include most of the Albertine rift endemic species, forest birds and more.
The birds that survive within the park include Rwenzori nightjars, African long-eared owl, dusky turtle dove, scarlet-tufted sunbird, handsome francolins, brown-necked parrot, Rwenzori double-collared sunbird, Grauer's swamp warblers, and many others.
Conclusion
Rwanda is the favorite destination for travelers looking to gorilla trekking in Africa.  The trek through the foothills of the Virunga Mountains in search of the great apes is one of the world's best rated adventures that should not miss on your bucket list for this year.