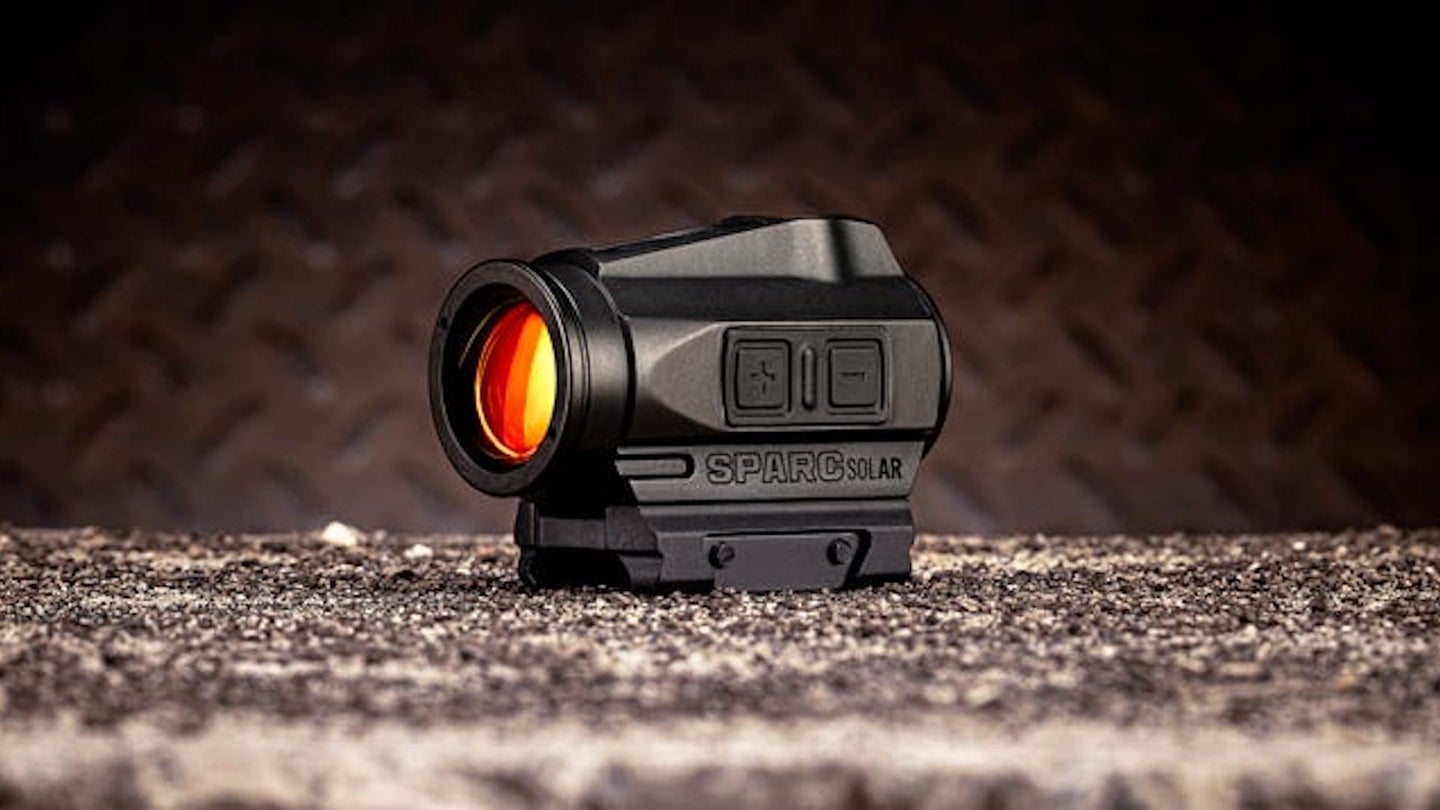 Whether you're installing it on an airsoft gun or like on a tactical rifles featured here , having an effective optic system will make a difference when it comes to acquiring and hitting the targets as intended.
There are plenty of red dot optics on the market today. So many, it's sometimes difficult to know which one will perform best for you. Of course, you want to make a choice that fits your budget. Price-conscious consumers always want to get the best bang for the dollar.
To help you make an informed decision, here are five of the industry's top red dot optic systems to look at when you make your choice.
1. Aimpoint PRO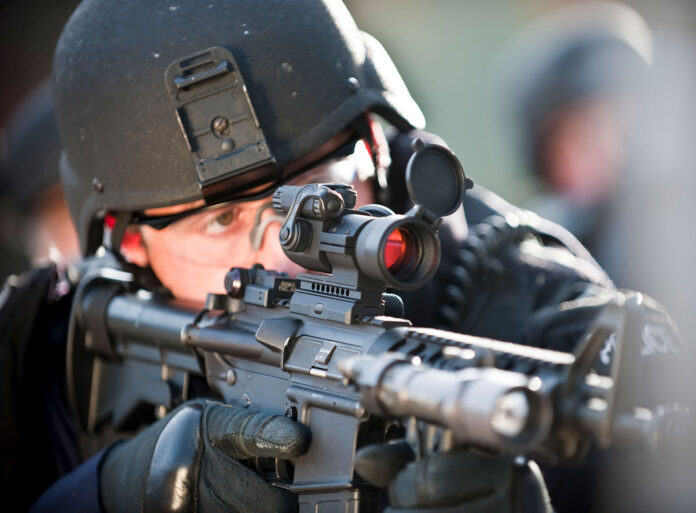 For a little under five hundred dollars, the Aimpoint Pro has some of the best features you can find in a red dot optical system. If you are a no-muss, no-fuss type of rifle owner, you'll love the fact you can activate this red dot system and forget about it.
The battery drain on the Aimpoint Pro is so minute; you'll need to replace the batteries only once every three years. What this means is that you'll get about thirty thousand hours of use before it's time to swap out the batteries.
The Aimpoint Pro sports ten different settings you can select, and for all you night hunters, the Aimpoint Pro has four specific selections for night vision.
Another fantastic feature of the Aimpoint Pro is a one-half MOA or minute of angle click value and a quick-release mount for easy and fast change when necessary.
The red dot Aimpoint Pro also features unlimited eye relief, and for those hunters or gun owners who are trying to keep their rifle trim and lightweight, you'll not have an issue with the Aimpoint Pro as it only weighs in a little over eleven ounces.
2. Trijicon MRO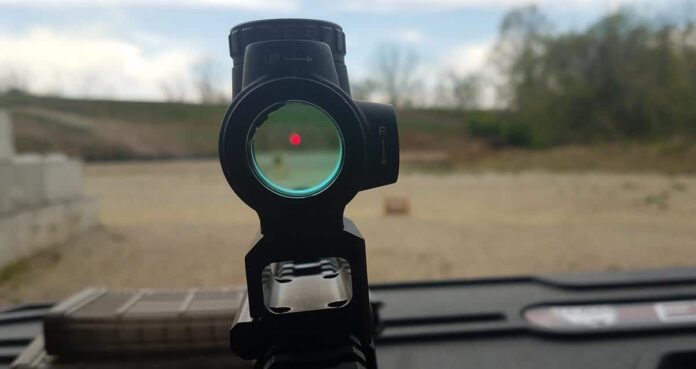 Another great optic system in the four-hundred-dollar range is the Trijicon MRO red dot. One of the best things about this optical system is that it sports a smaller profile but still provides a much larger field of view than most red dot sights do.
Trijicon raises the bar on optic systems by producing the MRO to take a beating and continue to function regardless of the conditions. Although the Trijicon MRO doesn't have as many selections as some of the other red dot sights, it still provides the owner six daylight settings and a couple of night vision settings.
The MRO can also handle almost a full five years of operation when the brightness selection is medium. With a Trijicon red dot, you can turn it on and forget about battery change for a good long while.
The Trijicon MRO also comes in various mounting configurations, from no mount to a one-third or complete co-witness.
If you prefer relying on the iron sights of your AR15 as backup, you'll probably want to go with the one-third co-witness configuration. Either way, reasonably priced at around four hundred dollars, the Trijicon MRO is the perfect red dot optic to put on the rail of your AR15.
3. Sig Sauer Romeo5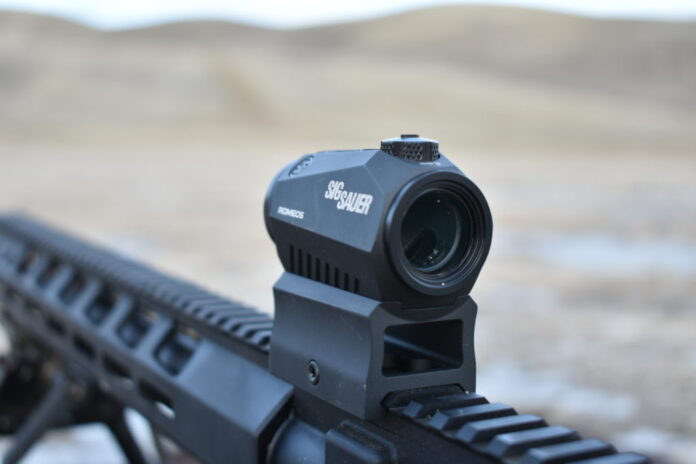 If you've invested a significant amount of hard-earned cash on your AR15, you may be interested in acquiring a less expensive optic system.
While you may be thinking as you scale down the cash outflow, you'll have to suffer from fewer features and less performance, with the Romeo5 from Sig Sauer, you may not have that problem.
Priced as low as one hundred and twenty dollars in some stores, the Sig Sauer Romeo5 delivers the goods consistently. The Romeo5 offers a crisp and straightforward and a 2 MOA dot with ten settings, two of them specifically for night vision.
One feature that separates the Sig Sauer Romeo5 from the rest of the pack is the motion on/off feature.
The activity on/off setting saves battery life by putting it in the owner's control, a novel approach to battery conservation. If you ever forget to turn off the Sig Sauer Romeo5, don't worry.
The batteries will give you a dependable optic for almost forty thousand hours at a medium brightness setting.
4. Bushnell TRS-25 AR Optics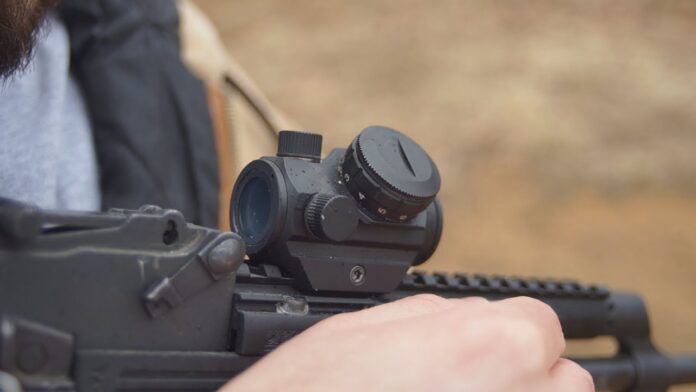 If you still need to take a few steps down the cost ladder, the Bushnell TRS-25 AR optic is the go-to choice if you want an adequate piece of glass for the budget build.
The Bushnell TRS-25 will provide you a relatively decent amount of positive red dot sighting at around sixty-five to seventy or eighty dollars.
Yes, the price is lower, but this optic from Bushnell is feature-rich. The TRS-25 offers a 3 MOA dot and eleven brightness settings. Unfortunately, the TRS-25 doesn't provide night vision, but if you're more inclined to daylight operation, the TRS-25 is a good optic for your AR15.
For such a small price, you still get significant features on the Bushnell TRS-25, such as waterproof construction, a parallax of fifty, and this tiny giant withstands the rigors of field use and all the bangs, drops, and tumbles you can give it.
High humidity days aren't stumbling blocks for this red dot optic system. Bushnell purges the inside of each scope with Nitrogen to prevent glass fog. At about eighty dollars, the Bushnell TRS-25 will give you solid performance at a reasonable price.
5. Trijicon RMR Type 2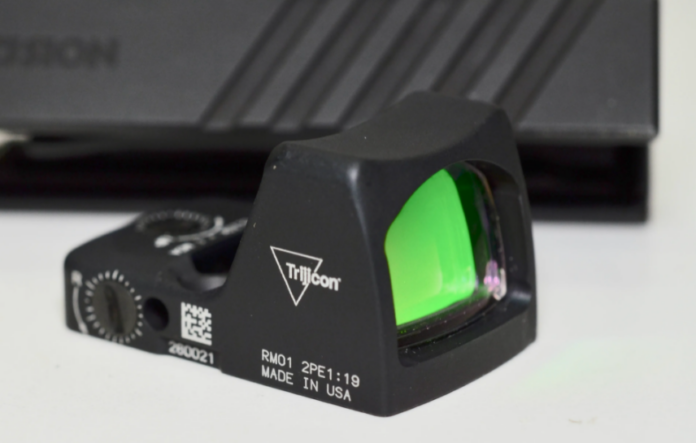 The first four of the top five red dot optic systems mentioned pertain to AR15 owners, but nothing says red dot optics on a pistol better than the Trijicon RMR Type 2.
Priced at just under five hundred dollars, the Trijicon Ruggedized Miniature Reflex Type 2 red dot system is a serious contender in the world of competition. Not only does the Trijicon RMR offer a wide-cut base that is compatible with most pistol slides, but the Type 2 features night vision capability.
Battery drain for this red dot system is a non-starter. Even in an always-on state, the batteries of the Trijicon RMR Type 2 will give the owner up to four years of service before you need to change. Considered the gold standard of pistol red dot optics, the RMR Type 2 from Trijicon may be the edge you're looking to achieve.