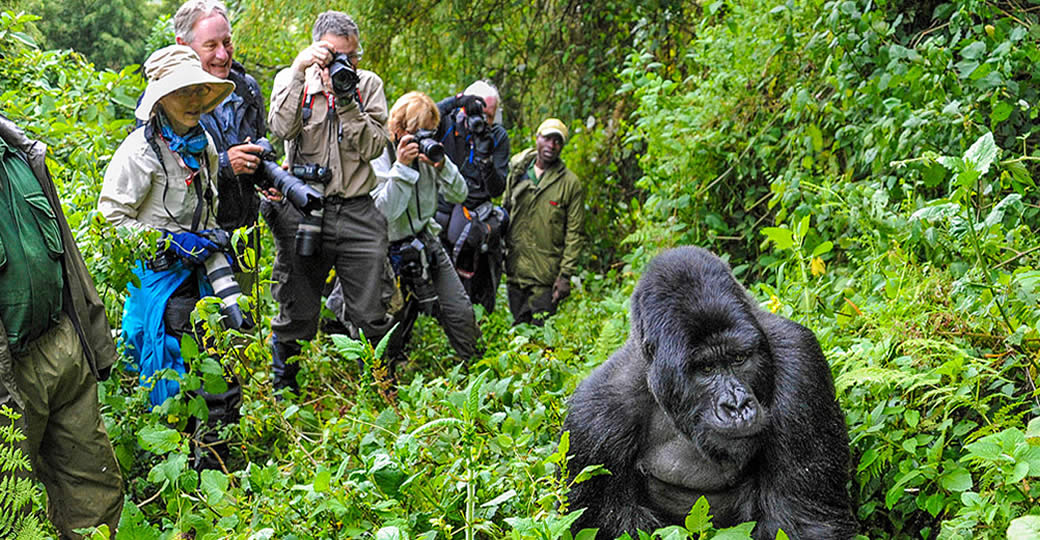 Gorilla trekking in Bwindi is a special primate adventure and remarkably the most popular experience on Uganda safaris. What makes it a distinct primate experience is the fact that it allows visitors to immerse themselves into the jungles and enjoy up close and personal with the family of massive mountain gorillas. This to most nature lovers is truly a lifetime or life changing experience.
The UNESCO Heritage Site of Bwindi Impenetrable Forest is one of the four destinations in the world where the endangered mountain gorillas survive.
The other three national parks are Mgahinga Gorilla National Park in Uganda, Virunga National Park in DR Congo & Volcanoes National Park of Rwanda. Bwindi is a Ugandan National Park and together with Mgahinga, they provide refuge to almost half of the world's mountain gorilla population.
Location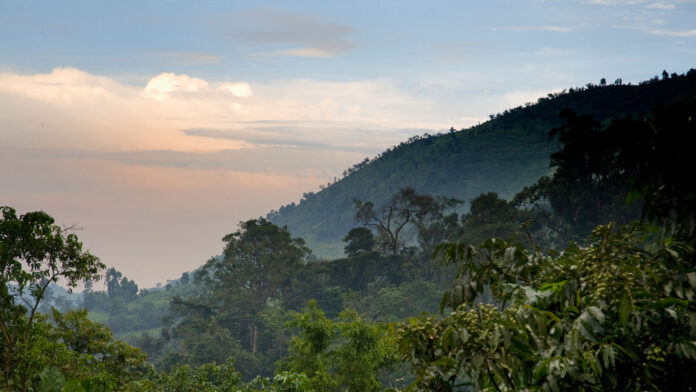 Bwindi Impenetrable Forest is a spectacular tropical protected area lying in Southwestern Uganda, also considered to be the best to locate mountain gorillas. This is a designated UNESCO World Heritage Site, home to 20 habituated gorilla groups that thrive in the 4 sectors (Buhoma, Ruhija, Nkuringo & Rushaga).
Gorilla families to be visited on gorilla trekking in Bwindi Impenetrable Forest; Rushaga sector families Bikingi, Mucunguzi gorilla group, Rwigi, Kutu, Busingye, Kahungye, Bweza, Nshongi gorilla group, and Mishaya.
Nkuringo region and its families –Nkuringo gorilla family, Bushaho and Christmas; Ruhija region families include Mukiza gorilla group, Kyaguriro, Oruzogo and Bitukura; Buhoma sector and its groups include Katwe, Rushegura, Habinyanja and Mubare gorilla family.
How much is gorilla permits for Bwindi Impenetrable Forest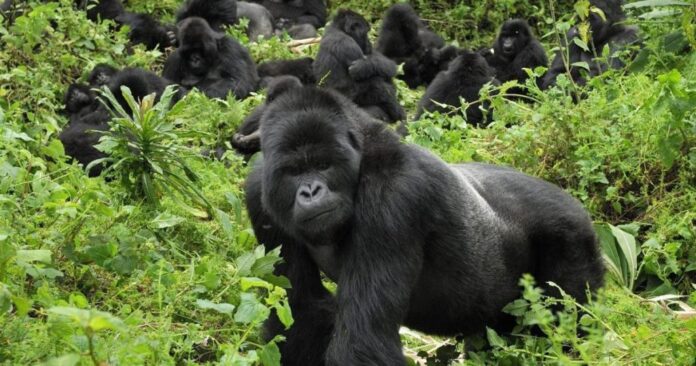 Bwindi Impenetrable Forest is a budget-friendly gorilla trekking destination. The permits are available for booking at US$700 per person which is also half the price of gorilla permits (USD 1500) for Volcanoes National Park in Rwanda. Depending on the length of your stay at the destination, accommodation type and other factors, a gorilla trip can cost you between USD 1500 to 5000.
Normal gorilla treks in Bwindi can be done during the 3 days gorilla tour or more days for you to have full exploration in the park.
Guests can also enjoy gorilla habituation experience – 3 days gorilla habituation safari with permits costing USD 1500 but you have a guarantee of 4 hours to get up close and personal with the endangered mountain gorillas in the wild.
How to obtain gorilla permits for Bwindi Impenetrable Forest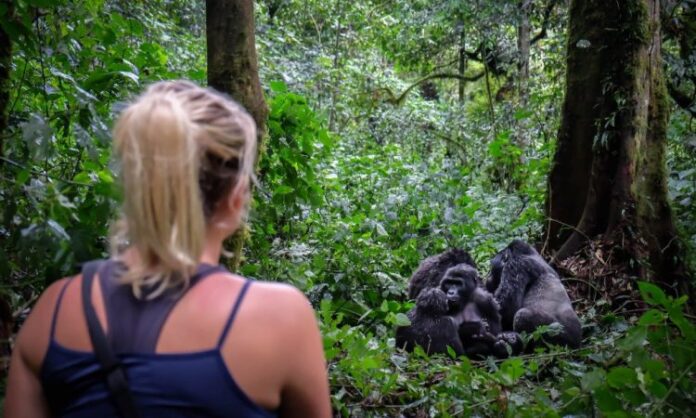 Valid gorilla permits for Bwindi can be booked via the reliable local tour operator. The permits must be obtained early enough at least 2-4 months before the actual visit to Bwindi Impenetrable Forest Park to see mountain gorillas.
When you should travel for gorilla trekking in Bwindi Impenetrable Forest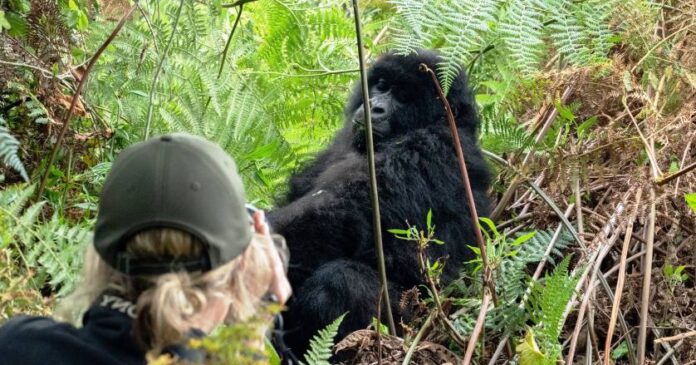 Gorilla trekking in Bwindi is an all year-round gorilla safari destination. However, the dry season is the best time of the year for you to consider visiting the park for exhilarating gorilla trekking experience. The dry season also happens to be the park's peak season and this occurs in 2 phases: June to August and December to February.
The rainy season also occurs in 2 phases: March to May and October-November. The treks during the wet or rainy season are a bit challenging given the dense vegetation growth and muddy trails caused by heavy rains. But it is also the perfect time to visit the park and engage in a trek to see mountain gorillas with no crowds.
What to bring for Bwindi gorilla trekking tour
There is a lot to be carried but not everything must be brought on your gorilla trekking tour. Besides gorilla permits, you also need valid passports, visas, long-sleeved shirts, long trousers, waterproof daypack, good camera, rain jacket, a sweater, and many others.
What else can visitors do in Bwindi Forest?
Birding
Visit the Batwa pygmies community
Nature walks or hiking
Cycling/biking
Where to stay in or around Bwindi Impenetrable Forest –Uganda?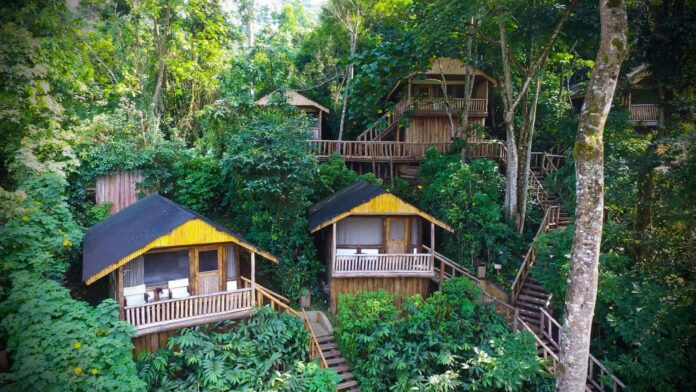 Bwindi Impenetrable Forest Park has wide range of lodging options –budget, midrange and luxury. All the 4 regions/sectors have accommodation facilities for you to choose and the most popular ones include Volcanoes Safari Bwindi Lodge, Ruhija Gorilla Friends Resort & Campsite, Silverback Lodge, Buhoma Lodge, Nkuringo Bwindi Gorilla Lodge, Clouds Mountain Gorilla Lodge, Buhoma Community Campsite, Mahogany Springs Lodge, Gorilla Forest Camp, Gift of Nature Lodge and others.
How to get to Bwindi Forest Park for gorilla trekking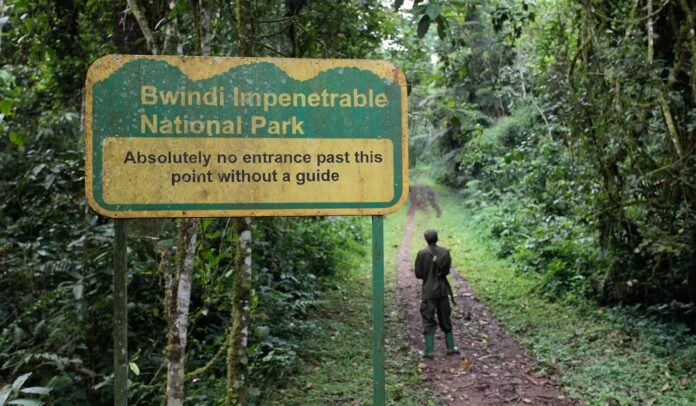 There are 2 options that guests on gorilla safaris can reach to Bwindi Impenetrable Forest for gorilla trekking; by road & air. Using road transportation, there are many routes leading to the park depending on your location.
From Kampala or Entebbe, tourists can use the Mbarara-Kabale route about 9-10 hours' drive. From Queen Elizabeth NP, about 4 hours' drive and from Kigali city via Katuna/Chanika border, about 4-5 hours' drive.
By air, you can have 2 hours' flight from Entebbe airport to Kihihi airstrip or Kisoro airstrip.