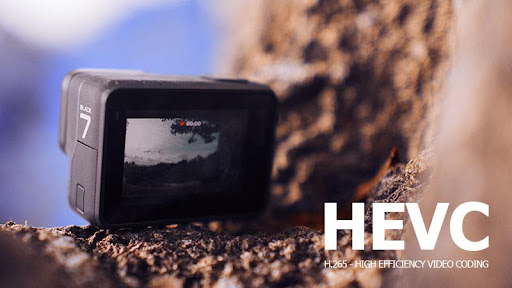 GoPro is really a popular sports and action camera because of its small physical size, waterproof and anti-shake features, as well as the support for 2.7K/4K UHD videos. It's one of the top camera brands recommended for vloggers in various review articles. Almost the GoPro cameras on the market, from Hero 5 to Hero 9 Black, can shoot videos in 4K. The latest Hero 9 Black even offers the ability to record videos in 5K! These videos with ultra-high resolution can present you a brand new world with crystal clear images of each frame. But, some problems like playback error and editing error come along with it.
Why Need A GoPro HEVC Video Converter?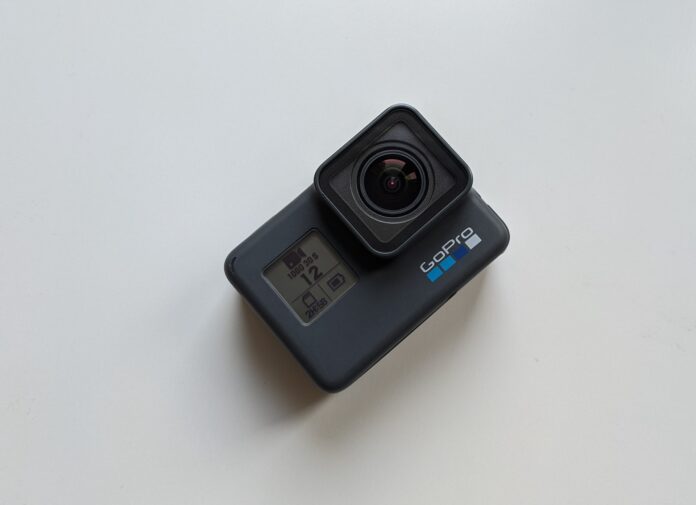 GoPro adopts H.264 and H.265 as the two main codecs for encoding the videos. H.265, known as HEVC using x265 coding library is the frequently used one for 4K/5K videos, especially the video with 60 and higher fps. When you choose to take 4K 60 fps video, it will notify you that the video will be coded in HEVC which may not be compatible with other platforms or devices.
So why GoPro still uses HEVC? The reason is that the compression rate of H.265 is about 25% to 50% higher comparing with H.264. A video encoded in H.265 can save more spaces than H.264 with the same video content. Although it excels H.264 in this respect, not all devices or software are fully prepared for the HEVC videos till now.
It's quite common to find that Windows Movie and TV app will pop up a Window shows "To play this video, you need a new codec" when you drop a H.265 file to it. And you will be asked to pay $0.99 for downloading and installing the HEVC codec on your computer for Movie &TV app. What's worse, you are not allowed to import any HEVC video to Adobe Premiere Pro if you want to edit it with your other videos. A GoPro HEVC/4K converter is a perfect solution for the dilemmas just mentioned.
Free GoPro HEVC Converter Recommended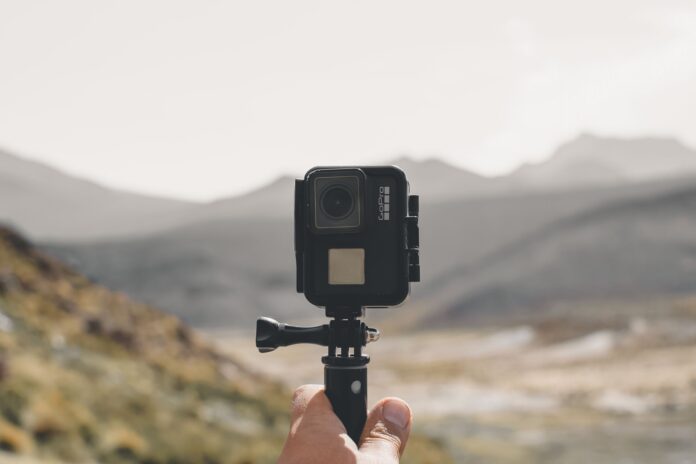 WinX Video Converter is one of the best free HEVC 4K converters for videos from GoPro, DJI, Drone, Camcorder, iPhone, Android, and other devices that can take 4K videos. You can refer the top 10 free 4K video converters for the details here. It is equipped with over 300 video and music codecs including H.264, HEVC, and other codecs used for 4K video like AV1, VP8/VP9. Handling GoPro HEVC 4K videos is not a tough task for WinX Video Converter from Digiarty WinXDVD company, which have accumulated rich experience in dealing multimedia files since 2006.
With the built-in of over 400 video and audio codecs, WinX Video Converter is able to decode and encode HEVC to MP4, H.264, MOV, WMV, AVI, M4V, etc. It's possible to convert it to MP3 audio too. Usually we will choose H.264 MP4 as the output, because MP4 is the universal format to be compatible with any video related equipment or software.
One of the pleasant features of WinX Video Converter is the GPU acceleration. You can tell the UHD video is quite large, the time for converting may be long. Embracing the hardware acceleration technology of Nvidia, AMD AND Intel, this tool enables you to proceed the conversion at a super-fast speed, sparing the worries of long-time waiting. Yet, it's very simple to use.
How to Convert the GoPro HEVC Video?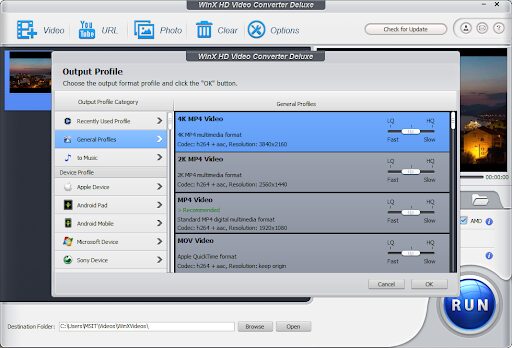 There are only three simple steps to convert GoPro HEVC video in H.264, MPEG and other codec using WinX Video Converter. When you get it downloaded and installed on your Windows or Mac computer, follow below steps.
First, add the targeted video on the main UI for converting by clicking "Video" icon or dragging the video directly to the software.
Then, a window will pop up, choose MP4 (H.264) as the output format. You can also opt to other format based on your need.
Finally, click the "Run" button to trigger on the conversion process. After a few minutes of waiting, you can get the ideal converted H.264 MP4 4K video without quality loss.
If you need to compress the file size, just click the gear-shaped icon to change the frame rate, bit rate, resolution, etc. Either of these operations will helps you reduce the 4K UHD HEVC file size. But remember, there might be some quality loss in certain degree. Sometimes, it's hard to find with your naked eyes on common computers.
Moreover, WinX serves as an editor to trim, crop video, and create slideshows. You can cut the unwanted part away, or you can crop the screen. Hardcoding a subtitle to video permanently is not a difficult job either. Asides from these, it is capable of downloading online media files to extend your multimedia enjoyment.
Why Not Using An Online Tool?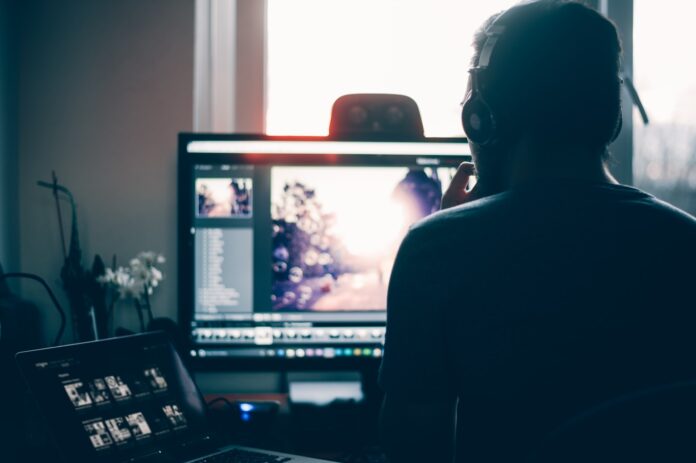 It should be noted that, online converters are not recommended to convert your GoPro HEVC videos. Even though the online website is totally free and 100% safe, the following reasons will scare you away. Generally, the HEVC 4K video taken by GoPro and other devices is very large, it can easily exceed 1GB of the size, which is the max size supported by online converters. Besides, it takes a lot of time to only upload the large video to online tool, let along to download the converted video. Another problem is that watermark may be added when you execute the converting online.
Sadly, it's effortful to find a free website that is both ads-free and safe. This can be a huge potential danger for your computer. What's worse, is there any way to make sure that your data will not be kept on the websites? It's another risk for data privacy.
Fortunately, there is no such problem with desktop ones. WinX Video Converter is a Virustotal-checked secure program for you to convert GoPro 4K HEVC/HD files smoothly and quickly. Offline work guarantees privacy. Additionally, WinX Video Converter aids you to change the video and audio parameters, such as bitrate, frame rate, and more to reduce the file size without noticing the quality loss in naked eyes. You can also cut and trim unwanted part as well. It's definitely a good choice to convert any of your HEVC/4K videos on computer for free.