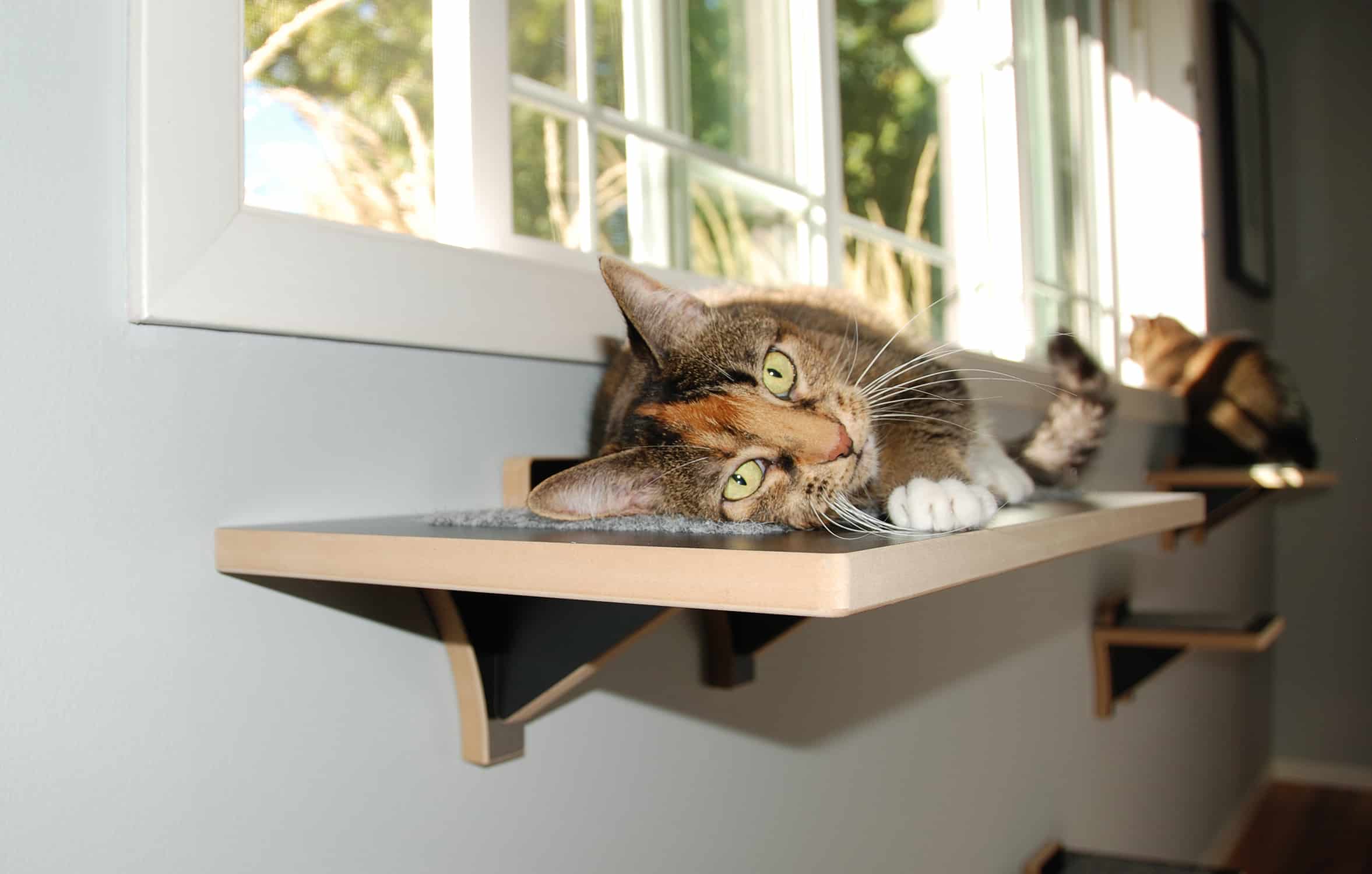 Are you searching for cat shelves for your beloved pet? Or are you searching for guidelines that will surely help you give ideas before buying a cat shelf? Pet owners are very optimistic about their pets. Are you one of them? Treating their pets as a child, giving the comfortability that will satisfy their pets, and at the same time, it will give your satisfaction as an owner. Destiny brings you here because you are on the right page.
There are so many aspects that you need to consider before having cat shelves for your pet. Cats are sensitive animals that their behavior will change if the environment changes. This act of behavior is a territorial thing for your pets. It is one of the aspects that you need to consider before changing your pet's surroundings.
Is it necessary to have cat shelves?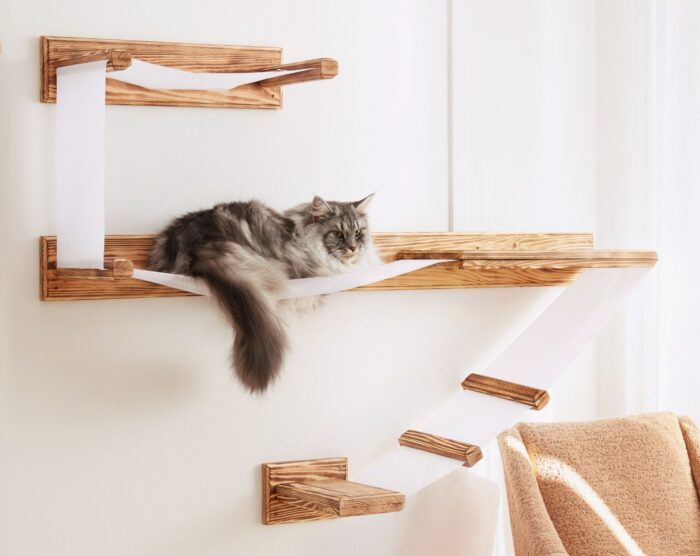 It isn't necessary, but it has an advantage for your pet. Having cat shelves will give your cat satisfaction, and this kind of activity will help them boost their instincts. At the same time, it will also improve your cat's health and happiness through playing and exercising. This kind of material will reduce your pet's boredom to prevent the unusual behavior of a cat. We have gathered eight cat shelves for your cats to play, scratch, and climb.
1. La La Pet Wall-Mounted Wood Cat Climber Cat Shelf
La La Pet's wooden cat ladder is the perfect fit for your home for those who have a pet that moves a lot indoors. The wood cat climber deters cats from scratching other furniture. This shelf gives a good workout for your cats by letting them go up and down a four-step wall-mounted climber. Specially made from high-quality thick solid wood wrap in a sisal rope for them to scratch.
2. CatastrophiCreations Cat Bridge Wall-Mounted Play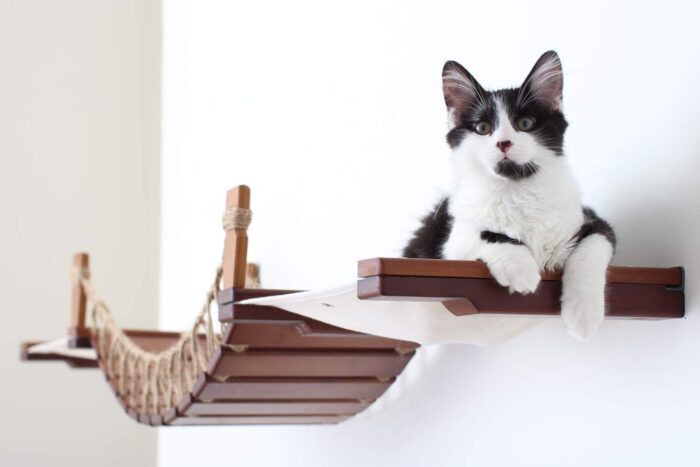 These shelves can help resolve the territorial behavior of a pet by giving them vertical space. This furniture is the perfect place for a cat to play and lounging all day. The bridge contains wood, washable fabric, and a hammock. The two hammocks have washable fabric so that you can wash them anytime for your pet to stay clean. This cat bridge can carry 62 to 82 lbs of weight. It's available in 5 different colors: English chestnut bamboo, natural bamboo, onyx bamboo, natural gray bamboo, and onyx charcoal gray bamboo.
3. Enjoy The Wood Store Hexagon Wooden Cat Shelves
If you want to design your wall with a cat shelf, go for Enjoy The Wood Store Hexagon Wooden Cat Shelves that can truly benefit you and your cat. This stylish cat shelf can design your house and at the same time, it will be your cat's territory. You'll be thrilled because you can install a window for you to observe your cat inside of the hexagon shelves. The sleeves are plywood with a dark walnut finish which you can mount to the wall using 4 dowels.
4. CatastrophiCreations Wall-Mounted Elevated Feeding Shelf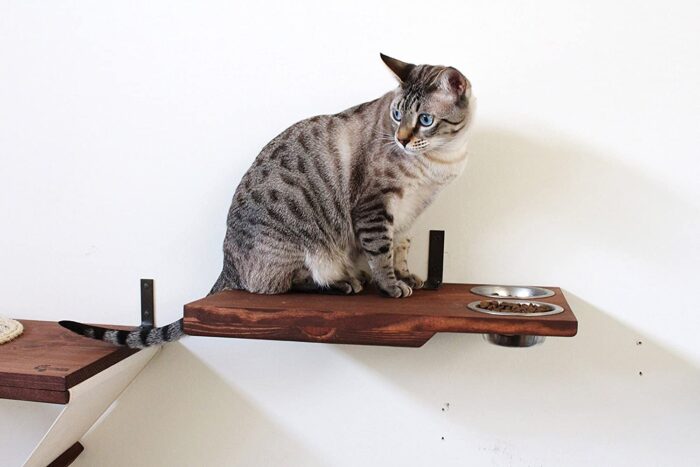 Yes, you read it right. It is an elevated feeding shelf. This furniture will help you as a pet owner to save space and make after-meal cleaning easier. The shelves contain two holes for the bowls that you can mount on the wall cleanly and create an illusion of floating shelves. It comes in different bamboo colors. When raising the food, they will have an advantage in digesting the food faster because of the gravity. This also prevents them from having a problem in the spine, hips, and digestive system.
5. TRIXIE Wall-Mounted Cat Lounging Set
Here are the traditional condos that tend to give your house a spacious advantage. This TRIXIE Wall-Mounted Cat Lounging Set is made to satisfy the cat's territory where it can play, climb, and rest. This lounge consists of two post steps, a hammock, and a sisal. It is an ideal alternative for a cat-climbing tree because it consumes more space. In case it gets dirty, the cushion is removable so you can hand wash it.
6. La La Pet Wood Wall-Mounted Cat Shelf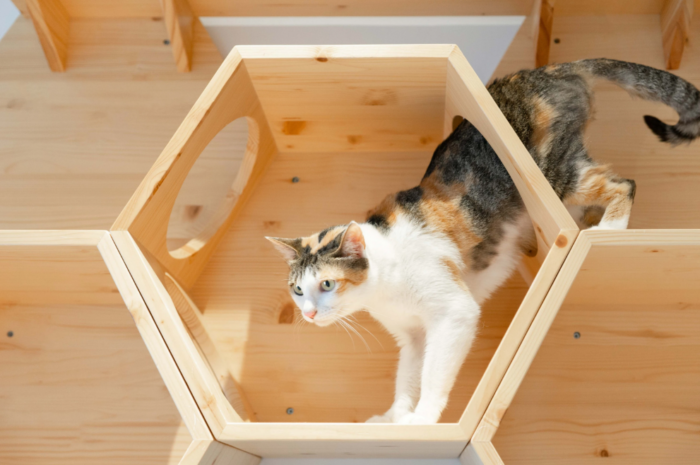 La La Pet's railed balcony cat perch fits your style because it is a functional wooden balcony shelf for your pet. Cats usually fall on their balconies, especially when they are hunting birds or squirrels. They also fall while sleeping on a balcony, but it prevents cats from falling thanks to this shelf. Cats love to go or stay in high places to feel confident. This shelf is perfect for that moment to take a rest and recharge. The Railed Balcony comprises rubberwood that can mount on the wall in four assembly screws.
7. TINTON LIFE Wall-Mounted Wooden Cat Space Clear Capsule
The TINTON LIFE Wall-Mounted Wooden Cat Space Clear Capsule lets your cat feel the space by having this kind of shelf. This kind of shelf focuses on monitoring your pet's activity. The design of this cat shelf helps you to know what your pet is doing. It is a transparent capsule-type shelf that can secure the environment for wider eyesight and it provides spacious sleeping space for your pet. You will surely love this because you get to see the different ways he squishes his body.
8. Kitty Corner Wall Mounted Hideaway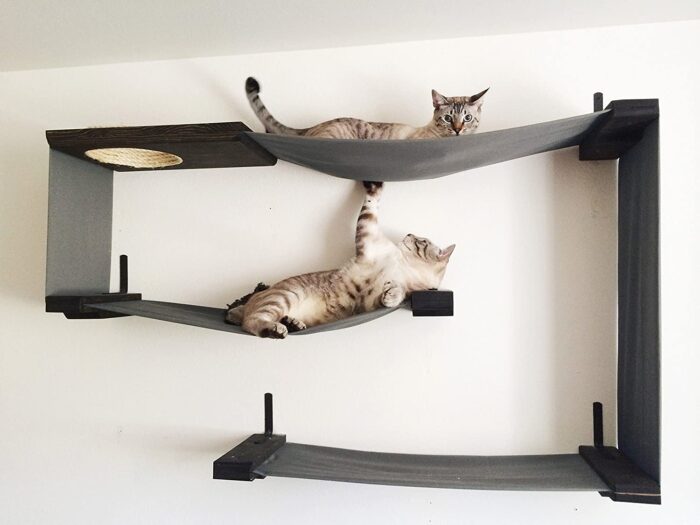 Do not forget to include this in your choices! Even your cats need a me-time moment so consider buying this Kitty Corner Wall Mounted Hideaway. It is available in 4 different colors: off-white, beige, brown, and speckled sand. This cat shelf is fully carpeted inside and out and has two doorways for your cats to move freely. It is a perfect playground for your pet.
Conclusion
There are so many various selections of cat shelves for you to choose from. This recommendation might help you fill your thoughts while choosing the best shelf to reach your satisfaction. These shelves above will give you a big advantage in space consumption and for your pets, too. So, what are you waiting for? You can find these purr-fect cat shelves at Storables.com and let your pets feel the love while having decoration at your house.